A comprehensive and unique programme of business discussions and workshops exploring and sharing information, skills and tools. These free events are aimed at helping local enterprises to develop, prosper and support each other. They are from lived examples by real businesses in town, and the forum encourages discussion and engagement on all levels. This is a chance for us to collaborate, share our experiences and work together to build stronger, healthier organisations and a vibrant business community.
Organised by Frome and District Chamber of Commerce, Frome Town Council and supported by Enterprise Mendip, Discuss & Do is a free and unique programme of events in business administration to support local enterprises.
Discuss & Do will be organised at different venues around town, running from 6pm to 7.30pm on the 4th Tuesday of the month.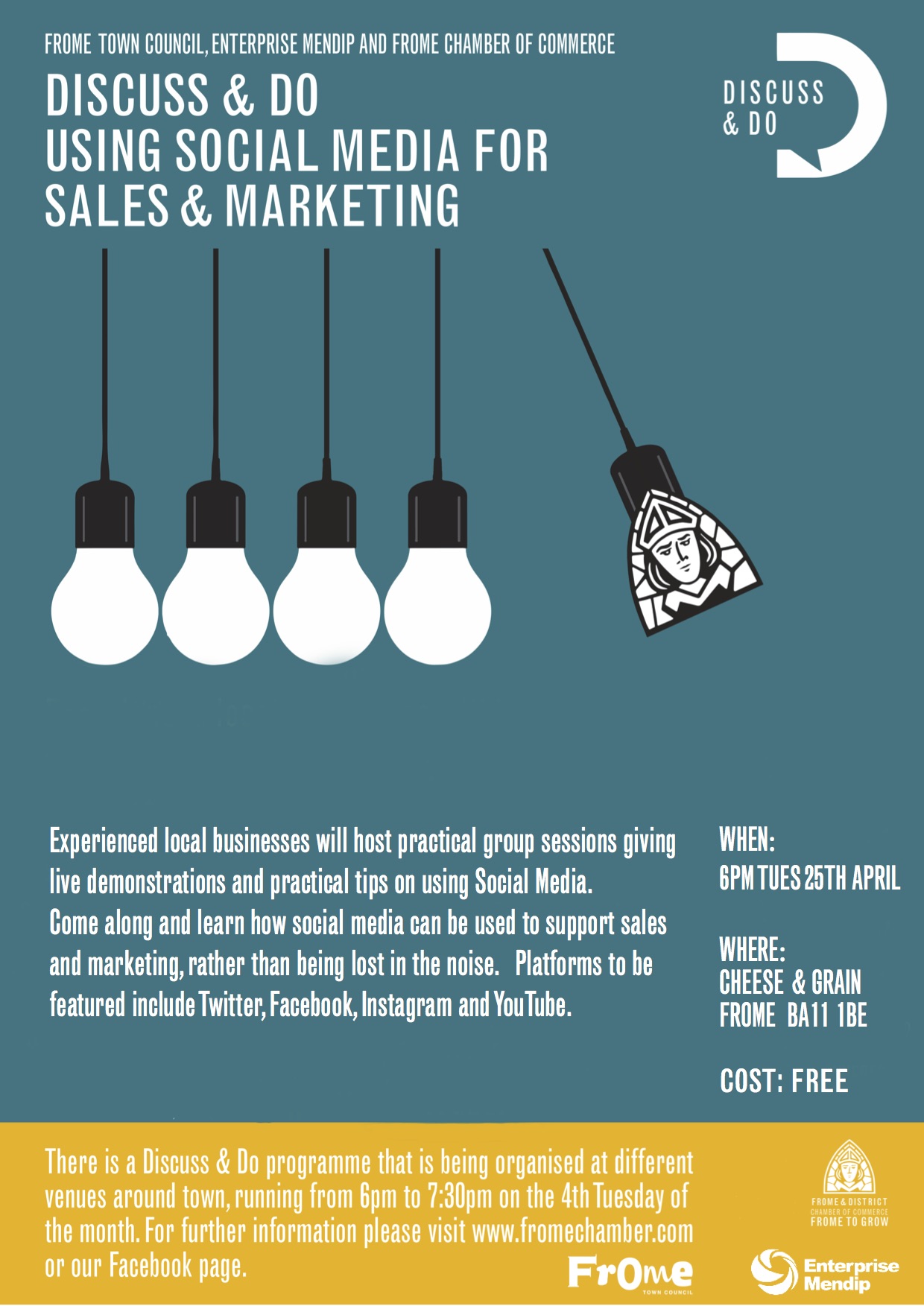 25th April, 6pm – Using Social Media for Sales and Marketing
In April, Discuss and Do will host a follow up to the successful workshop in 2016.
At the event, experienced local businesses will host practical group sessions giving live demonstrations and practical tips on using Social Media.
The purpose of this workshop will be to learn how Social Media can be used to support sales and marketing, rather than being lost in the noise. Platforms to be featured include Twitter, Facebook, Instagram and YouTube.
Discuss & Do is a free event, however, registration is essential via the following link, Get Tickets.
Contact Charlie Orr at orrc@frometowncouncil.gov.uk for more information.
Upcoming Events

23rd May, 6pm – Organisational Skills
Overwhelmed with e-mail? Poorly managed (or no) filing system? Can't decide on how to organise your to do lists. These are problems facing all businesses, and some of them have found solutions.
This will be an open forum to discuss how we are dealing with the ever increasing organisational demands on a business, share successful strategies and with a strong emphasis on doable 'Do's' at the end.. and that means homework!
27th June, 6pm – The Power of Communication
Marketing and communications is key to building your brand and your business. It is your expression of who you are and what you represent, so it's vital that it is a clear and consistent message in all the right channels.
This workshop will explore how this applies to your business, why communication is important and what simple, practical tools you can apply.
25th July, 6pm – Getting the right advice for your new premises
Following on from the Frome Town Council's research last year, this presentation will look at how to find new premises, as well as alternative working hubs. There will be practical tips on what to look for, what to expect in the terms of the tenancy, and negotiating.
Moving premises can be a major headache.  Find out where you can get the help and expertise from professionals in the field and businesspeople who have done it!
26th September, 6pm – Digital Marketing: Tips on using Social Media and SEO
How do you market your business in today's digital environment? What are the practical tips and tricks to improving your visibility using social media, or increasing your website traffic with Search Engine Optimization?
The evening will take the form of an informal workshop with local business owners, focusing on how they have integrated their digital marketing into a specific approach to their marketplace.
24th October, 6pm – What do my numbers mean?
Numbers mean money and so much more. This will be an interactive workshop giving you an opportunity to explore what your numbers actually mean: How to read your accounts; what information you need to run a successful business; how to choose the right accounting system.
It will be a practical evening, with opportunities to discuss different taxes, cloud accounting, raising money and more, with local experts.
28th November, 6pm – It's all about people
Getting the best from staff, customers, suppliers and other key relationships comes down, in the end, to your skill in managing people. We will cover three key aspects of 'people skills': clarity, empathy and managing emotions.
You will explore and practice how to communicate clearly, develop listening skills and manage emotions, yours and theirs.