Frome Town Council is working with the local community to set up a dedicated volunteer driving scheme for Frome. The service is designed to supplement other local schemes such as Mendip Community Transport – who provide drivers for journeys out of and into the town (but not within it) and manage Mendip's slinky bus, and the hospital transport scheme – see links below.
Richard Fry who is helping to set up the scheme said 'Volunteer driver schemes exist in many areas and provide a lifeline for people.  By having a dedicated Frome service we want to develop a network of drivers who will ensure that Frome residents with limited access to transport can get to vital services such as medical appointments.'
The scheme is being piloted with seed funding from Frome Town Council and is set to launch in November 2016. Anna Francis, the council's resilience officer said 'With cuts to services we are receiving an increasing number of calls from people who are finding it hard to get to medical appointments, or to visit their loved ones in hospital. We are also working with key groups such as Active and In Touch who tell us that transport often stops their members from attending local groups and activities. Volunteering, even once a month, is a fantastic way to support the local community, cover your cars costs and do something worthwhile. It also plays a key role in reducing isolation and improving wellbeing. And we'll be exploring car sharing options and opportunities to use Frome's car club to reduce emissions too.'
Whilst the initial focus is on transporting people to and from medical centres and hospitals, if the scheme is successful it could be expanded to allow other journeys, but, Richard is keen to point out 'It is not a taxi service'. The scheme will pay volunteer driver 45p a mile to cover expenses and will also look to hire car club cars for people who want to volunteer but don't have a suitable vehicle. The scheme is also registering with Somerset County Council to be able to offer 50% rebates for bus pass holders and others.
To get involved or find out more contact: fromecommunitycars@gmail.com or call Richard on 07596 591391.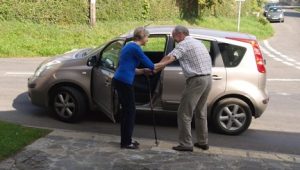 Other local schemes include:
The Patient Transport Advice Centre  Tel: 01278 727444  Email: transport@somerset.nhs.uk. The first point of contact for all Somerset GP patients enquiring about transport to their NHS appointments. Lines are open from 08:30 – 18:30 Monday to Friday. http://www.somersetccg.nhs.uk/your-health/patient-transport/
British Red Cross Somerset Independent Living Team http://www.redcross.org.uk Tel: 01823-273707
Email: somersetindependentliving@redcross.org.uk Home and Transport Support We offer transport to/from hospital or doctors' appointments and other trips near or far, we can support with shopping or companionship on a short term basis. All our drivers are volunteers who use their own cars. Suggested donation of £10 plus 45p per mile.
Mendip Community Transport http://www.mendipcommunitytransport.co.uk
Slinky Service 01749–880482 – Mendip Community Transport. This service provides transport for Senior citizens, those with disabilities & socially excluded persons (i.e. no access to local bus routes). It is a first come, first served service so passengers are advised to give as much notice as possible, they can book up to 14 days in advance (15 days for medical appointment). Bus Passes are accepted.
Hospital Car Service – 01749-880613 Mendip Community Transport. This service provides transport to hospitals outside the Mendip Area for patients who are unable to use conventional public transport. Cost 60p per mile with a reduction if a Bus Pass is held.
The Blue Badge Scheme http://www.somerset.gov.uk Email: adults@somerset.gov.uk Tel: 0845-345-9133 Provides national parking concessions for people with severe walking difficulties or who are who are severely sight impaired who travel as drivers or passengers. People who have a blue badge can park close to their destination in on-street parking and car parks. Call Somerset County Council on 0845 345 9133 or apply online via the website.
Moped Loan Scheme – Somerset Rural Youth Project http://www.sryp.org.uk Tel: 01278 722100 Email: mopeds@sryp.org.uk Provides an affordable and economical transport solution to young people aged 16 to 25 with no access to public transport.
ACE- Accessible Countryside for Everyone http://www.accessiblecountryside.org.uk
This site also provides information on Disabled Access, Wheelchair Walks, Easy Access, Access for All, Mobility, Walks on Wheels, Miles without Stiles, Buggy Walks, taxi companies with disabled friendly taxis, along with wheelchair and scooter hire info.
Concessionary Bus Pass – Transporting Somerset Tel: 0845 345 9155 www.somerset.gov.uk Email: transport@somerset.gov.uk English National Concessionary Travel Scheme Passes are available for residents of Somerset who are of pensionable age or eligible on the grounds of disability. The pass allows you to travel free on buses in every area of England subject to certain time restrictions.
Healthcare Travel Cost Scheme – It may be possible to claim back travel expenses to hospital appointments, if you are in receipt of certain benefits. You may be able to get financial help from the Healthcare Travel Costs Scheme if you: • are on a low income • need NHS treatment at a hospital, other NHS center or private clinic • have been referred by a healthcare professional. http://www.nhs.uk/NHSEngland/Healthcosts/Pages/Travelcosts.aspx
Disabled Persons Railcard Email:disability@atoc.org Tel: 0845 605 0525 http://www.disabledpersons-railcard.co.uk. You may be able to apply for a disabled person's rail card, if you are in receipt of certain benefits, are visually impaired or registered as deaf, please see website for details, the card will allow you a third off rail travel and costs £20.00 a year.
National Express http://www.nationalexpress.com Tel: 08717-818178. Senior Coach Card, Disabled Coach Card and Young Persons Coach Card give a third off standard fares. Coach Card costs £10 a year.