Lockdown update:
Following the Government's roadmap out of lockdown, we are now in Step 3 which means weddings and civil partnership ceremonies are permitted to take place with up to 30 people.
Somerset Registration Services have emailed all couples whose ceremonies had to be cancelled during the lockdown to ask them to submit a postponement request form. Please visit the Somerset Registration Services website for further details.
---
We are delighted to announce the return of weddings at Frome Town Hall. Following a 46 year break, civil ceremonies at our historic building are back!
Weddings and civil ceremonies
Working with Somerset Registration Services, the Town Hall has been granted a wedding licence and can now be used as a registry office.
Marriages and civil partnerships are available and can be designed to suit individual requirements to ensure the day will be unique as those using the space. These ceremonies are non-religious in nature and couples are able to personalise the special occasion by choosing music and creating their own bespoke vows.
Your ceremony
There are two options to choose from depending on your ceremony requirements. Due to Covid restrictions ceremonies may look a little different and will be conducted in line with the latest social distancing requirements. You can read more about the steps we're taking to make sure you will feel comfortable and confident on your special day and how we will look after you and your guests in our Staying Safe – Weddings at Frome Town Hall guide.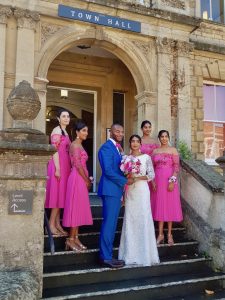 For smaller, more intimate weddings, there is the Emma Sheppard Room which can hold up to ten guests currently.
There is also the elegant Council Chamber which can currently seat up to 30 guests so more family and friends can enjoy your big day should you need it.
Please note that new legislation in May 2021 means that marriage records have moved away from a paper register to a new electronic system. Learn more about the marriage registration changes.
Extras
Each couple has an hour for their ceremony and to take photographs in the beautiful and historic venue.
As the Town Hall also has its own premises licence if desired (and once Covid restrictions allow), couples and their guests can enjoy a glass of celebratory fizz – just let us know.
Should you book the final ceremony of the day, you will also be able to hire the Council Chamber if you wish your reception to be held at the venue.
Baby naming ceremonies
The Town Hall can also be used to celebrate and welcome your child into their family with a baby naming ceremony. It's a non-religious alternative to a christening ceremony, and a great opportunity for friends and family to come together and celebrate the new addition to a family – new babies, extended families with step-children, adopted families, fostered children. The ceremony can be tailored to your needs and can include music and readings.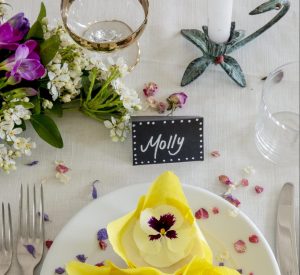 Available dates for weddings at Frome Town Hall
Somerset Registration Services are now able to accept your registration of interest in using Frome Town Hall for your ceremony on any of the dates below. Simply use this form.
| | |
| --- | --- |
| 2021 dates | 2022 dates |
| | 12th February |
| | 26th March |
| 19th June | 16th April |
| 24th July | 28th May |
| 7th August | 18th June |
| 21st August | 23rd July |
| 11th September | 20th August |
| 23rd October | 10th September |
| 27th November | 22nd October |
| 18th December | 17th December |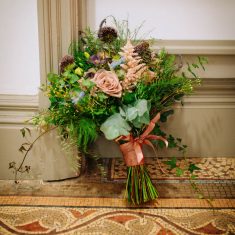 Interested in finding out more?
If you wish to book a ceremony at Frome Town Hall and want to find out more, please contact the Somerset Registrations Services bookings team on 01823 282251. You can find out more on Somerset Registry Service's website.
If you wish to also hold your reception at Frome Town Hall, once restrictions allow, please contact info@frometowncouncil.gov.uk or call 01373 465757.
Similarly, to discuss any personal arrangements or to view the Council Chamber please contact us. If you'd like to get a feel for the building before visiting, take a look at the Frome Town Hall virtual tour.
Photo credit flowers: Zara Davis Photography and Lynne Jessett Floristry