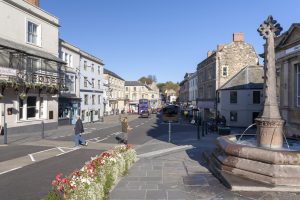 Frome Town Council has developed plans for the next phase of the Market Place improvements. An exhibition was held between 8-22 November 2019 along with two drop in sessions when the Project Team were on hand to answer specific questions. View the exhibition boards (PDF, 43MB).
Local residents and stakeholders shared their comments on these initial plans which are reflected in the proposals below. The proposals are subject to planning consent and the approval of the County Council as Highway Authority.
Disabled Parking
Introduce two new disabled parking spaces and dropped kerbs between Catherine House & Waterloo on Cork Street
Existing disabled bays on Cork Street: enable access by disabled drivers through the day and evening and introduce continuous dropped kerb for better access
Make the proposed disabled bays on both sides of the Market Place time limited to enable more users to use them throughout the day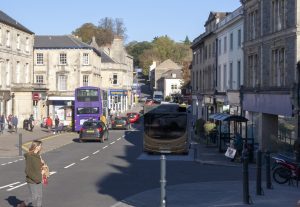 Bus Stops 
New bus shelters with Real Time Information
Amend the radii of kerbing to the bus bays to make it easier for buses to enter and exit the bays
Pedestrian Safety
New bollards in Bath Street
Introduce reflective bands on all bollards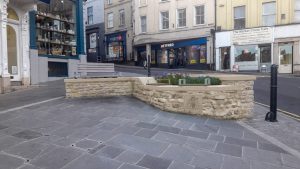 Paving & Street Furniture
No clear preference for planting and seating
Will monitor how newly paved areas are used before determining need in these areas
New paving around bus stop on southern side & new railings
Responding to the needs of Town Centre businesses 
Introduce new delivery bay outside The George, enabling larger HGVs to deliver to nearby shops and restaurants
Minimising disruption by enabling access to premises through works and one way traffic management
Road markings and ahanges to parking and waiting restrictions
See First Notice – Market Place Frome on Bath Street, Cork Street and Market Place. IMA-13-146_TRO-2 Proposed Road Markings and Signage.