Hi this is Jo from the Wild Bunch with our latest column.
Have you heard about Frome's Community Wildlife Mapping project? Are you supporting it? The Wild Bunch has been involved in the project since its start in 2022 and it's important that you are too. Not only you will have fun doing so, but you will also be helping Frome Town Council and Somerset Environmental Record Centre (SERC) create a baseline for monitoring biodiversity in our green spaces and gardens across the town.
The project started in January 2022, and it now lists over 2600 observations. So far 863 individual animal and plant species have been recorded by over 200 observers, which is a fantastic start. If you would like to see the observations visit the iNaturalist website and search for 'Frome Town' in projects.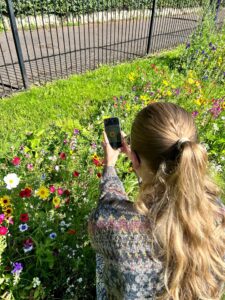 The team are receiving ongoing support from Somerset Environmental Record Centre with the project. Collecting such data takes time, but eventually, in few years' time SERC and FTC hope to start seeing how the biodiversity being recorded in the town changes over time. The data will help them understand our local environment more and will help FTC focus their efforts on the correct type of habitats required to help expand any existing ecological networks, i.e., putting more grassland in an area already comprised of grassland and not just planting trees everywhere.
As well as helping gather local biodiversity data so we can best manage the Town's green spaces and our gardens, the Community Wildlife Mapping project is also a part of much bigger picture of what's happening in Somerset. Eventually, the community maps SERC produces from the data gathered will sit on an independent 'Somerset State of Nature' website, where they will form an integral part of understanding Somerset's ecological story, alongside nature recovery networks and biodiversity net gain projects. This way, what happens in any given parish, can be then looked at with a wider view as to how it sits within the Somerset landscape.
We need the community to continue to support the project and submit observations on daily basis on their way to work or school, while in the garden or walking the dog. We also encourage everyone to take part in the Somerset Wildlife Counts organised by the Somerset Wildlife Trust. The data submitted during these counts will also contribute to Frome's Community Wildlife Mapping project.
Anyone can take part and contribute, whether you are an experienced wildlife recorder or a novice, recording has been made fun and easy with a free phone app called Seek using the iNaturalist platform and all you need to do is:
Download iNaturalist app to your smartphone, create a free account and join the Frome Town project
2. Download the Seek app by iNaturalist to your smartphone and link it to your iNaturalist account
3. Start recording!
Alternatively, you can make a record with pen and paper and upload it on iNaturalist at home, and if you don't have access online, the town council will be more than happy to take your observations if you call 01373 480391.
The Wild Bunch are not meeting in August as we have the month off, so our next Wild Bunch event is on Thursday 21st September and it's all about Hedgehog Awareness at the Town Hall from 1.30-3.00. All are welcome, please register on the Wild Bunch page.