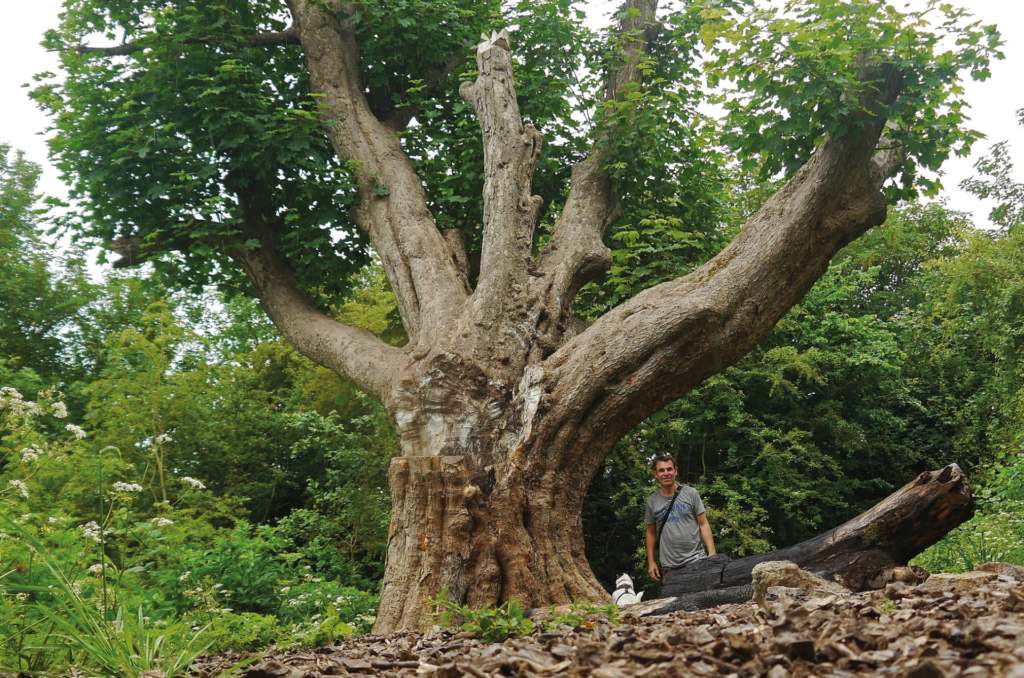 Following on from the success of last year's Great Big Green Week, this year's week-long celebration will see the return of some of the most popular events including a series of walks around our town. Taking advantage of Frome's parks, open spaces and flora and fauna, there are a host of walks for all to enjoy.
Local author and ancient tree specialist Julian Hight is back with his Heritage Tree Walk on Sunday 11th September. Join Julian to see some of Frome's most majestic trees and hear about their history and lore. Starting at 2pm from the Cheese and Grain, the easy walk will include Millennium Green, Rodden Meadow and Willow Vale, it'll take around 60-90 minutes and tickets cost £7.
If you want to find plants from every corner of the earth with amazing stories to tell, where would you look? A botanical garden? A garden centre or a grand garden such as the Newt or Stourhead? On this everyday botany walk with author and horticulturalist David Hamilton, you'll discover some of the fascinating stories of the plants we pass-by every day on the streets of Frome. Find what adaptations these weeds, perennials and shrubs have naturally gone through to survive in our tiny town, tucked away in an eastern corner of Somerset. The Everyday Botany Walk takes place on Wednesday 14th September, 6pm-7pm and starts from Frome Town Hall, tickets cost £7.
The popular Churchyards' Biodiversity Trail returns on Saturday 17th where attendees can explore the churchyards of Frome and discover the biodiversity flourishing within them. Churchyards are among the few areas unaffected over the centuries by farming and development, and each provides its own unique blend of plants and habitats for wildlife. This one-mile trail starts with a short talk at Dissenters' Cemetery (BA11 3EH), and continues to Christ Church and Wesley Methodist, finishing at St John's churchyard. The trail starts at 10am – 12:30pm and tickets cost £3.
Why not combine two GBGW events in one evening? On Saturday 17th the Wild Bunch are hosting their free bat box building session taking place at the Roundhouse at from 5:45pm. There will be easy to put together kits so you can make your own on site. And then meet near the Canoe Club in the Cheese & Grain car park at 7pm to join FROGS for a Bat Walk, led by Adel Avery of the Somerset Bat Group. Learn about Frome's local bats, then take a short walk alongside the river to spot them flying. Bat detector devices will be available for you to listen in to their calls and help you identify which species are about. Both activities need to be booked separately, the bat walk costs £5.
Wrapping up the walking series, the Friends of the River Frome (FORF) are hosting their River Walk from 2pm-4pm on Sunday 18th September. The walk will start at Welshmill Weir and head through the town along the Retreat and to Adderwell, then back to the town centre by road. FORF will explain everything from the history of the river and the otters, beavers and other wildlife that lives in and near it, to pollution, flooding, development and the FORF strategy. Tickets cost £3 per adult.
Cllr Mark Dorrington said: "We are thrilled to have these walks in the GBGW programme, not only can we enjoy our outdoor space but learn some interesting biodiversity facts along the way, all in our little town. These walks are popular mind, so make sure you book your tickets before they get snapped up!"
Take a look at the programme for all the information, please note well behaved dogs on short leads are only welcome on the Heritage Tree and Everyday Botany walk. All tickets can be booked here.