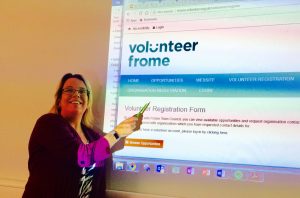 From today Denise Timmins will spend every Tuesday working in the Frome Town Hall for Volunteer Frome. Her first task today was to work with the Volunteer Frome committee in readiness for the database launch next Tuesday.
Pictured here, Denise is well placed to support both volunteers and volunteer organisations and community groups.
Volunteer Frome is a database designed to make it easier for organisations to recruit volunteers and for volunteers to have access to all volunteering opportunities in Frome. From SPARK, a leading voluntary sector support agency, Denise will enable the service dedicated to matching volunteers to volunteering opportunities. She will be at the Frome Town Hall every Tuesday from 10am  – 2pm
Community groups, sports clubs and other organisations across Frome are invited to sign up to Volunteer Frome next Tuesday in a special event.
Please come to The Assembly Rooms on 14th March at either 2pm or 5.00 pm to find out more and sign your group up and the positions that you would like to recruit.
Refreshments will be provided.
For more information about Volunteer Frome, please email Kate Hellard hellardk@frometowncouncil.gov.uk