Amidst continuing concerns and questions about its impact on people and the environment, Frome Town Council has taken the decision not to use the chemical glyphosate in its work looking after most of the town's parks & green spaces.
"We've been following the discussions about glyphosate for some time now" said Chris Stringer, the Council's Environment Manager. "We realise that the scientific communities are divided and we understand that there's a very current debate over both the health risks and the environmental impacts of glyphosate-based products. But like other councils – including Glastonbury Town Council and Hammersmith & Fulham – we're taking a precautionary step that puts the health of our people and our parks first."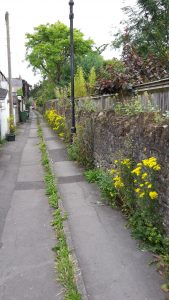 Councillors also resolved to discuss the idea of a town-wide ban with both Mendip District Council and Somerset County Council; and to contact other towns and parishes nearby. Currently, both Mendip District Council and Somerset County Council use glyphosate on land that they look after, either directly or by way of contracted work.
"It was important for the town that we had this debate" said Cllr Peter Macfadyen. "Now it's just as important that we continue our discussions with other organisations working in the town and with Frome's Allotment Association; and that we raise the profile of this discussion. We want everyone in Frome to be in a position that they can make informed choices and local decisions about their gardens; the places they work; and the town's streets and public places"
Glyphosate is a mass-produced, global herbicide; and has been used to manage and control weeds and grass in towns and cities since the late 60s. It is the main active ingredient in Roundup, the world's best-selling weed-killer – and is widely-used by local authorities, the agricultural industry and the domestic market.
Amidst controversy and health concerns, glyphosate has just been granted an 18-month extension to its European licence, albeit with certain restrictions and "an obligation" to minimise its use in public parks and playgrounds. As such, the discussion is set to continue – and now those discussions will be taking place in Frome.
For more information on this please contact Frome Town Council on 01373 465757; or call in to see us in Palmer Street.