You might have noticed tree tags appearing on the trees in Frome's parks and green spaces. These tags are being used to uniquely identify all of the trees in the town's parks and green spaces. Pretty useful in itself – we've found out we have over 330 trees in Victoria Park alone!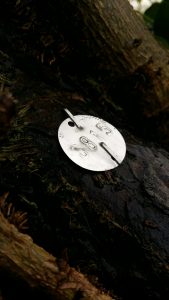 More importantly, however, the tags also correspond to a set of detailed condition surveys being undertaken by an independent arborist (a tree expert, to you & me). These surveys will help inform the management of our trees over the upcoming years.
Based on the observations and recommendations made in these surveys we've started to complete and schedule a variety of tree works across the town's parks and green spaces. This has already included simple but important husbandry works, like the mulching you might have seen in Victoria Park; and removing the Ivy and the basal epicormic shoots from the Lime trees in Welshmill.
Most of the works will be routine maintenance and good practice – like raising and cutting back low-hanging branches over paths. In the main these works will be completed by the Rangers. Some works will necessarily be more specialist and involved though – like climbing works on taller, larger trees. These works will usually be completed by accredited and experienced tree surgeons, for health and safety reasons etc.
Since a number of the town's parks and green spaces are in Conservation Areas, certain tree works will be subject to permission from Mendip District Council too. Examples include Victoria Park and Welshmill, both of which are in Conservation Areas. As such we've submitted a Conservation Area application to Mendip District Council proposing a variety of tree works in Victoria Park. This proposal includes felling 13 trees for the long term management of the park's tree stock. Of these 13 trees, perhaps the most prominent by a combination of size and location are the following:
680 – A split Lawson Cypress by the eastern entrance to the park
759 – A decaying multi-stemmed Lawson Cypress with a failed union overhanging Weymouth Road
Both of these trees have been recommended for felling because of concerns about where and how they've split – and because of their proximity to busy footpaths (and in the case of the multi-stemmed Cypress, its proximity to Weymouth Road)
Variously the other trees have been recommended for felling because of concerns about their health; their general poor quality; and/or their location – a number of these trees are being suppressed by other competing trees, for example
Over time we'll be planting new, replacement and succession trees across the town's parks and green spaces, including planting in Victoria Park and on Mary Baily this winter/spring to balance any trees that come out. Please get in touch if you have any queries about the works being proposed for Victoria Park admin@frometowncouncil.gov.uk