The interest in self-build housing has grown rapidly in recent years.  Such schemes enable people to participate in the design, planning, construction and future management of their homes and are part of the drive to deliver affordable housing. 
Given the rising cost of housing in Frome, Frome Town Council is now preparing to get involved.  We already have a policy in the Neighbourhood Plan for Frome which is due to go to referendum later this year.  The Council has also secured an option to purchase around 2 acres of land from a local landowner in Little Keyford Lane.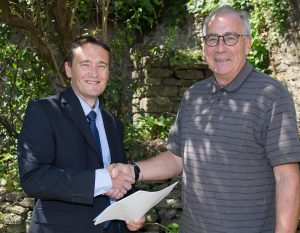 Brian O'Connor who is a member of the landowning family said,
"It was my late father's wish to see a self-build scheme come forward on this land.  He wanted local people to have the opportunity to build quality affordable homes and for young people to be trained in the skills they need to construct them.  We approached the Town Council because we felt they had both the vision and resources to help make this happen.  We're delighted that they have taken up this opportunity."
The next step will be for plans to be prepared to enable outline planning permission to be secured.  This will also include some design guidelines for self-builders to follow.  People who live around the site have already been approached for their views and on 27 July, the Town Council's Town Matters Committee will be asked for their approval to appoint a suitably qualified and experienced agent/architect.
Cllr Mel Usher, Leader of the Council said, "This is a ground breaking project for the Council and for the town.  We have been aware of the interest in self-build for a while but we are now going to bring a scheme to fruition as quickly as we can.  We have the resources to make this happen but along the way will take advice from local experts and will consult the public on our ideas before we submit a planning application.  We will take steps to ensure that only local people benefit from this scheme and the housing that is built is of a high quality but remains affordable for generations to come."
For further information, please contact Peter Wheelhouse, Economic Development & Regeneration Manager on 01373 475573  or email: wheelhousep@frometowncouncil.gov.uk