Many of the town's people came together at the Assembly Rooms last night (6 April 2016) to celebrate the work of four people in the community. Frome Town's Civic Awards are presented by the town's Mayor Kate Bielby in recognition of a real contribution to the community of Frome. 
This year's recipients were Tracey Harding, Sue Everett, Lucia Chadwick and Jim Boulter.
Kate Bielby said, "These awards recognise those who have gone over and above what they do as a job, hobby, or a cause they feel passionate about. These amazing people have made a great impression on me, not only by their actions but by their selfless attitude towards the welfare of the community as a whole."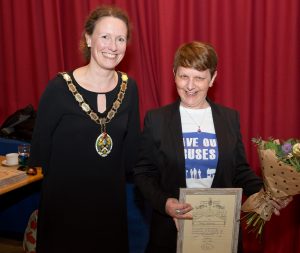 Tracey Harding was given an award for her relentless campaigning and dedication to the protection of vital bus services on behalf of everyone in the community.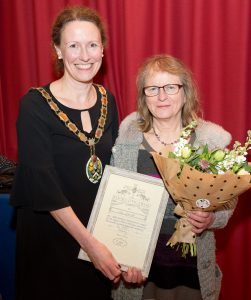 Sue Everett, for her extraordinary dedication in support of the Keyford, Mount & Marsden Community Association and outstanding work in improving the open space known as 'The Dippy'.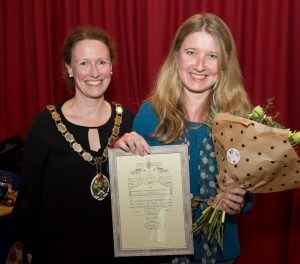 Lucia Chadwick for her extraordinary commitment to the support of those in greatest need and contribution to the life of our community. Doing more than a full time job in a part-time role.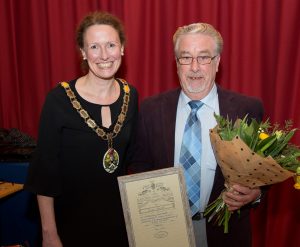 Jim Boulter for his outstanding dedication and achievement to music in our community, and for inspiring generations of young musicians, and providing Frome with wonderful music.
Kate Bielby also gave a personal presentation on her year as Mayor and how she is continually moved by those in the community who contribute so much. Leader of the Council Peter Macfadyen summarised the work of the Council and the priorities for the year ahead.