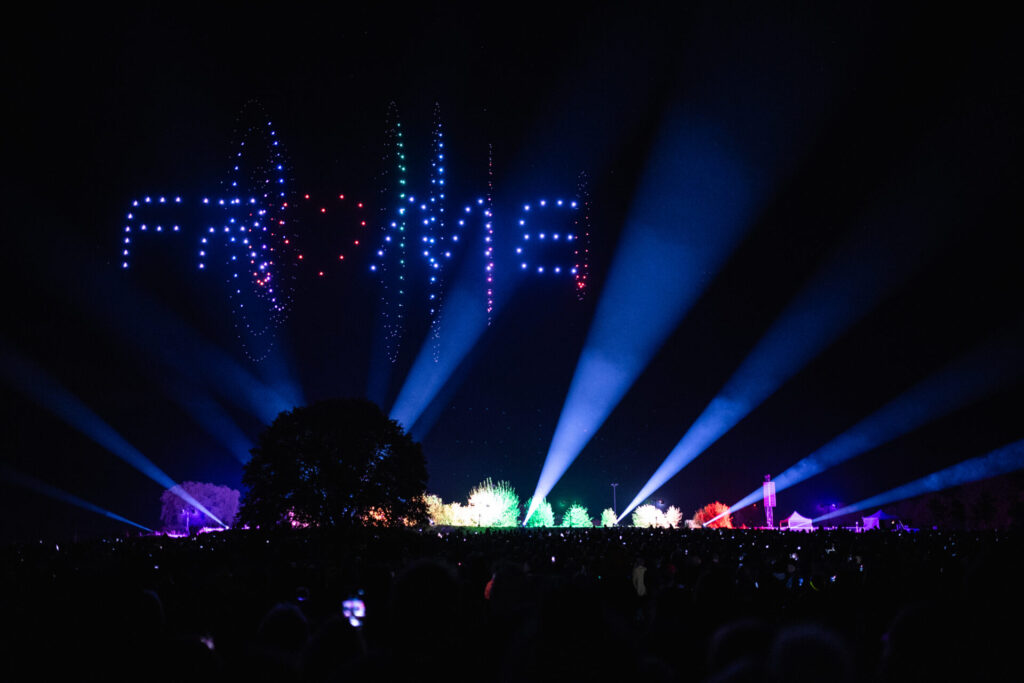 The evening of Saturday 4th November saw local company, Celestial, deliver a spectacular drone show in partnership with Frome Town Council for a fundraiser event in the place of a traditional fireworks display. The event saw a record number of drones go up in front of a 7500-capacity crowd, raising more than £12,000 for local charities with their dazzling display.
"Close Encounters of the Frome Kind" was an extraterrestrial extravaganza that celebrated the colourful character and quirk of Frome with its blend of innovative drone light show technology, UFO intrigue and touch of celestial magic.
The show was designed and delivered by Celestial who, since their last Frome display (the first with a live audience), has gone from strength to strength delivering super-premium shows all over the world for some of the biggest brands, including Eurovision, London New Year's Eve and many more.
John Hopkins, Celestial CCO and Co-Founder, said: "'Close Encounters of the Frome Kind' invited the audience to ponder the increasing probability of extraterrestrial life beyond our planet and humanity's galactic dance in the universe. Given the amount of UFO sightings in the Frome area, it was a show our team have been excited to produce for some time. Featuring hundreds of drones and epic show lighting, the highly entertaining show brought together cosmic history, mystery and technology in a mesmerising spectacle. It was Celestial's 'thank you' to Frome."
Deputy Mayor Andy Jones welcomed the crowd to the event and thanked everyone involved: "It is so fantastic to be able to have such a groundbreaking spectacle in our town. It showcases not only the wealth of talent of Frome business, but also the coming together of the community organisations to support the event and of course, a fantastic community experience in a way that better supports the environment!
Our thanks go to Cooper and Tanner, who always support our large events, and we are delighted that yet again this year they were able to support.
Thanks also to the Rotary, for all the Frome Rotary Clubs, the Inner Wheel and the Lions help setting up. For the Stewards – we certainly couldn't do it without you. To the Pod for running our SEN quiet space tent, and the collegians for letting us use their pitch.
Frome Auto Electrical – particularly Keven for his generosity in pulling us out of a dark hole last Friday. Similarly, to Star Medical, Frome Medical Practice and the hospital – it's always good to know we are in great hands.
To the Cricket Club, Agricultural Society and Selwood Academy for generous use of their site, carpark and office. The litter warriors for helping keep the Showfield, and indeed the town, spick and span voluntarily.
To Dennis Maps, for kindly helping us out free of charge at such short notice – we would quite literally be lost without you.
Thanks to all the Frome Town Council staff and the Rangers for their magnificent effort pulling it all together and delivering a fantastic event.
But of course, the biggest thanks must go to Celestial for putting together the amazing show – how lucky we are to live in this fantastic town with such amazing and committed residents."
Due to the scale and expected numbers at the event, organisers said: "The decision to ticket simply meant that we were better able to plan for the infrastructure on the site. We needed to manage important provisions such as medical support and toilets, as well as messaging around car parking facilities. Whilst it did leave a number of people without tickets, it is better than the alternative, which could have meant an unsafe site being potentially overwhelmed.
We are absolutely delighted with the amount raised so far, but let's not forget that this was a charity event with free entry and there is still time to donate! You can do this by texting 'closenow' to 70085 to donate £5. Or, for less or more, put the number of pounds after 'closenow' and press send!"
The charities who were bucket collecting on the night and who will benefit from the show were: Frome Carnival, Frome Collegians Football Club, Frome's Missing Link, Fair Frome, The Pod, Frome Town Band, Purple Elephant, Frome Skate Park Project and Victoria Park Community Café.
You can also still donate to the Just Giving page set up for this event: https://justgiving.com/campaign/close-encounters