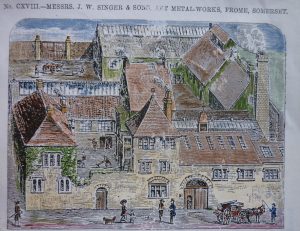 Rook Lane Arts trust is seeking volunteers for its new project, which will celebrate the life and work of John Webb Singer, one of Frome's most prominent historical figures.
Rook Lane Arts Trust is partnering with Frome Museum to launch "Casting The World" on Saturday 23rd February 2019, which marks the bicentenary of Singer's birth. They would like to invite anyone who wants to know more about volunteering over the course of the project to the launch on 23rd February which will be an opportunity to meet the team and find out more about what's in store.
Project curator Sue Bucklow, who has been researching the Singer archive since 1998, says she is also keen to hear from anyone who has a personal connection to the Singer Foundry. She says: "Although the fine art metal work production moved from Frome in 1927 Singer's continued to operate in the town centre until 1999 and still has a site on the trading estate as Johnson Controls. The foundry's impact on Frome is still remembered by residents and we would love to hear from anyone who has relatives who may have worked there or had a connection to the Singer family, the foundry or its' work."
Casting the World: The Story of J.W. Singer & Sons, Frome celebrates and explores the life of J.W. Singer and the iconic sculptures, statues and civic works cast in Frome, through a year of exhibitions, events and education programme.
The project launches on Saturday 23rd February at Frome Museum, with curator Sue Bucklow leading the newly commissioned Frome Town Council Singer's Trail  – a walk that takes in sites around Frome associated with John Webb Singer  – at 2pm. From 3pm, visitors will be able to take a first look at Frome Museum's new display of artefacts and memorabilia belonging to J.W. Singer and his family, followed by speeches, refreshments and a birthday cake.
To keep up to date with the project, find out what's on, or if you'd like to be involved visit www.rooklanearts.org.uk.