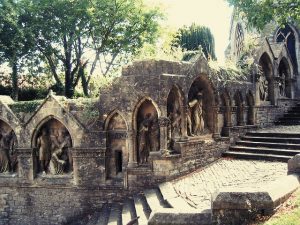 I have to start with an apology… last week I said that Martin Dimery was stepping down from co-ordinating the Frome Festival. Well, he's not which is great news but he is stopping his work for the Cheese and Grain. Sorry Martin.
With the Festival in full swing, things were was massively busy but hugely enjoyable last Sunday.
I decided to do things I wouldn't normally choose. At St John's Church and got to see some of the wonderful decorative arts that are part of it's structure. There are the sculptures of the stations of the cross – the Via Crucis – on the outside and carved medallions high up on the inside that illustrate the parables and the miracles. Later on Sunday I went to Trinity church for a performance of Mozart.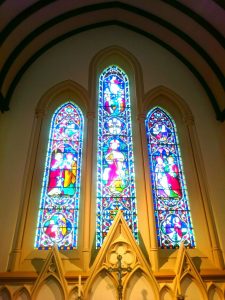 Trinity has been recently renovated and though there was some controversy surrounding the changes the resulting space is stunning and a perfect setting to such moving music. The Pre-Raphaelite stain glass windows shone in the sunlight. They are fabulous with rich colours and gorgeous design. If you haven't seen them they are really worth seeking out.
Now I don't go to church but whether I believe or not I do marvel at the quality, skill and beauty of these church treasures and they're right here in Frome!
I also visited the tremendous Children's festival, peddled furiously on a bike to make a smoothy, spray painted a bag with Frome Reads and watched as kids crossed the river on a zip wire!
And if that wasn't enough I also went to the Assembly rooms to hear North Sea Radio Orchestra. Really high quality, delicious music and unexpected, just what a festival should deliver.
There's the Art Car Boot and the Frome half marathon this weekend every excuse to get out and support wonderful purposeful energy!