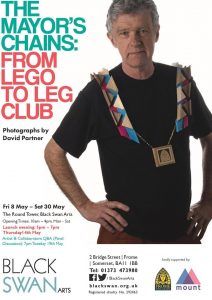 One of the major focuses of Frome Town Council in recent years has been to support community groups and organisations; raise their profile and to provide real, practical, support for them to increase their capacity through development support and advice, grants and fundraising expertise to deliver local projects for local people.
The Mayor's Chains are an artistic expression of this – a community leader embracing the work (and creativity) of the people engaged in making the community what it is, rather than expressing his status and power.
The idea of the chains evolved from two conversations.  The first with Luke, at his Lego club, who was challenged to make a Lego chain and the second with St John's School Green Panthers group.  I was wearing the gold Town Chain and its non-green credentials came up – they offered to make another which went on to be worn for the Summer Fete opening and made it into the local press.  From there, other groups offered – and were encouraged to make chains.
Peter Macfadyen said 'The total collection offers only a snapshot of the community in Frome I have engaged with as the Mayor over 2014/15.  For each chain there must be at least  four groups and organisations I have spent time with.  But this is it – there won't be a next time, at least not by me!'
David Partner has specialised in portraits outside the box and struck by the idea, he started taking pictures of the chains, initially at each event, but we later retook them in two sessions to ensure the focus was on the chains and not distracted by background or too much variation in me.   Simon Keyte was amazingly quick to come on board with the framing which has taken this from an intriguing story to a complete exhibition.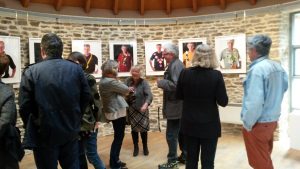 To see the full exhibition please visit the Round Tower at the Black Swan until the 30th May and then look out for the exhibition on the road….