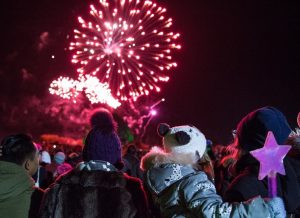 The excitement is rising in Frome for the eagerly awaited return of the fireworks on Saturday 2nd November. As last year, the town opted for the fireworks as part of Frome Town Council's People's Budget Events vote and this year's spectacular display looks to be another extravaganza.
Returning to the Old Showfield, the free family-friendly fireworks show accompanied by music will kick off at 7:30pm. The fireworks aren't the only thing on the menu, make sure you arrive early to enjoy a delicious array of food treats to keep you warm. From 6pm, catering stalls will tempt you with a host of treats from hot buttered crumpets to crepes, a hog roast to chips and dips along with many more – there will be something for all tastes. And to keep the little ones entertained, this year there will be children's rides including bungee trampolines, mini bumper cars, and a carousel to add to the excitement of the evening.
Frome Town Council have their fingers crossed for good weather, Mark Dorrington, Mayor of Frome, "Whatever the weather, this year's display is going to explode across the skies above Frome, and, if it rains, we won't let it dampen the excitement! Make sure you wrap up warm and let the fireworks provide a warm glow for all to enjoy."
The event is free and but please come out and support local charities. The Rotary Clubs of Frome will be collecting donations on the evening for these local charities: Frome Town Band, Active and in Touch, Fair Frome, Frome Big Christmas Get Together, Collegians Football Club, Frome Explorer, Scouts, The Missing Link, The Pod, The Carnival Club, Frome Barnardos. So please bring all your spare change and give generously to the bucket collectors.
As a reminder, people are encouraged to walk to the Old Showfield and to not bring fireworks or sparklers to the event. There is only limited disabled parking available, please email info@frometowncouncil.gov.uk for more information.
This year's fireworks have been kindly supported by Cooper and Tanner and Sydenhams Hire.
Published 17/10/19