Spring has arrived and what better way to welcome it than by getting together with your neighbours to grow a colourful collection of herbs, flowers and veg.
Frome Town Council is working with the Walled Garden at Mells to curate a special kit that includes everything you need for your whole street to grow a range of plants from seed.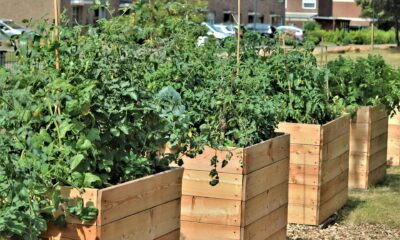 Established Neighbourhood Network groups as well as streets in the initial stages of forming their own group, are invited to collect a seed kit during the first week of April. Residents can then share out the seed trays and swap the plants around as they grow.
Cllr Sara Butler said, "Growing on your street is such a simple and fun way to bring people together and make connections. It doesn't matter what garden space you have, in fact a sunny windowsill could be all you need, and it doesn't matter whether you're an experienced gardener or have never planted anything before, because you'll be working alongside your neighbours to create a street full of beautiful flowers and tasty veg. And who knows it might all be ready in time to cook something for a summer street party."
The kits are available for collection from the Frome Town Hall car park to established Neighbourhood Network groups on Thursday 1st April between 10am and 12.30pm and to other streets on the 6th and 7th April, 10am-12pm. One kit per street is available, and one person or household should book the ticket and make the collection. The collection will be safely distanced and sanitised, please do wear a mask if you can. The kits are free but limited in number and booking is essential via bit.ly/growonyourstreet
Frome Town Council will be sharing ideas and how-to-guides to support budding gardeners with tips on upcycling containers or wellies to keep your seedlings growing and recycling what you have in your street to build planters. Residents can feed into the Neighbourhood Network to update everyone on their progress and there will also be opportunities to take part in an online workshop to make your own plant pots using origami.
If you are new to the Neighbourhood Network, your seed kit booking will sign you up as the main contact for a new group, and you will start to receive invitations to fortnightly catch ups, and a monthly newsletter. It's a great way to share information, ideas and resources with other street level groups across Frome. Find out more about the Neighbourhood Network.
For any questions, if you can't make any of the dates listed or for support in getting a group started you can contact Hannah at hstopford@frometowncouncil.gov.uk