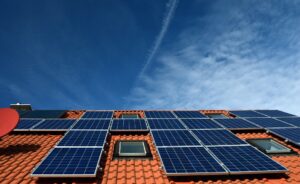 Following the success of the Frome's Solar Street in 2019, where over 70 installations took place, Frome Town Council are encouraging more homeowners to look at this renewable energy solution as one of the ways to assist the Town's target to become carbon neutral by 2030.  FTC and Frome Renewable Energy Co-op (FRECo) are working with local solar installer IDDEA to offer discounted solar panels for Frome residents.  They are hosting an online information session on Tuesday 11th May from 7pm – 8pm, where residents can hear all about the process, plus the cost savings as IDDEA can install the solar panels in bulk, saving time, transport, and emissions.
Cllr Lizzie Boyle and Director of FRECo said: "We are delighted that so many Frome residents have signed up already. The session is really important as it will go into the details of new technologies and give examples of how much can be saved each year. To benefit the buying power and savings from IDDEA, we only need 10 houses to sign up, but wouldn't it be brilliant if we could get more than the 2019 project?".
Why install solar PV through Solar Streets?
Save money on electricity bills
Depending on the size of your roof and the amount of electricity you use, installing solar panels can significantly reduce the cost of powering your home.
Reduce your carbon footprint
An average household solar PV array will save about 1 tonne of Carbon Dioxide (CO2) each year
Support Community Energy
For each installation IDDEA will donate £50 to FRECO's Community Energy Fund, to support community renewable and energy efficiency projects in Frome.
To book your place for the session, please visit: https://bit.ly/FromeSolarStreets