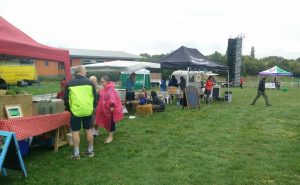 On Saturday 3rd September the new outdoor gym equipment at the Old Showfield on Rodden Road was officially launched. Despite the cold, wind and rain, over twenty stalls were on site offering games, food and fun.
People of all ages made fruit kebabs, created cycling art work and practised circus skills. Thanks to everyone who came along, and made it such a great day.
Emma Parker, event organiser said "The weather was not on our side but everyone remained positive and had good things to say about the equipment."
APE project who came over from Bristol said "The weather was pretty awful but we had a great day none the less and fell in love with Frome, what a beautiful town!"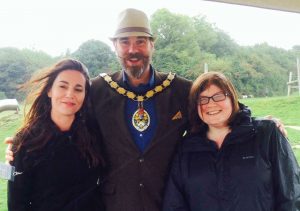 Jo Smith from Somerset Activity and Sports Partnership is now planning to run family games at the Old Showfield from 3.30pm – 4.30pm  on 13th, 15th, 27th ,29th September and 4th, 6th, 11th and 13th October. Please contact Jo Smith on jsmith@sasp.co.uk or call/text 07342063731 for more information.
We're hoping to make the Showfield Spectacular a regular event – hopefully next year it will be bigger and better and bring the sun with it!
To keep up-to-date with projects the Town Council is working on, please see our news section of our website here: https://www.frometowncouncil.gov.uk/news/Feature image: Silky Longfellow – Stanshall, Routes Advisor, Cllr Toby Eliot – Frome Town Mayor,  Sarah Stobbart – Routes Project Manager.