Jamie Oliver's production team are coming to Frome on the 11th August to do a feature on Frome's community fridge. The first project of its kind in the UK, local residents are being asked to pop down between 4pm and 5.30pm to share any surplus items via the fridge and to meet Jimmy Doherty and Jamie's team as part of their Friday Food Feast series which will be shown on Channel 4.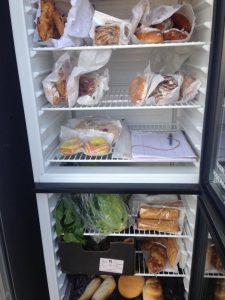 The fridge, set up by Frome Town Council and local social enterprise Edventure, has already enabled over 2000 items of 'surplus' food to be shared by businesses and the local community. The project is now attracting national media attention and several groups around the country are using Frome's open source toolkit to set up their own fridge.
As well as enabling local businesses and residents to reduce food waste, the fridge provides a 'life-line' for some who are struggling. The fridge, located at the colourful Loop de Loop building near the library, is open every day from 8am and 8pm for anyone to use.
Anna Francis, Frome Town Council's Resilience Officer who helped to set up the project said "The response to the fridge has been amazing. The fridge has proved to be almost too popular and despite being restocked daily is often empty. We now need more of the larger food retailers to participate and we would love local residents to bring down any packaged or fresh food (not cooked, as this needs to come from certified kitchens, or raw meat or fish). We are working with Fair Frome to ensure that food bank users and others are able to use this resource. However, we're also keen that anyone can benefit from the fridge and that it is inclusive as possible – a community resource for everyone to enjoy. The more food and volunteers we have the more people will benefit."
For more information about the fridge pop down and meet Jimmy on the 11th August, visit: www.edventurefrome.org/fridge or https://www.facebook.com/communityfridgefrome/ or call 01373 475574