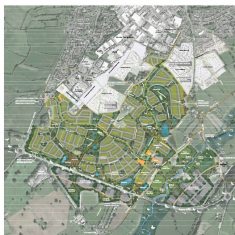 Land Value Alliances (LVA) are currently hosting an online public consultation on the updated proposals for Selwood Garden Community.  This follows the initial vision consultation event held last December where members of the public shared comments and feedback on the proposals. More detailed technical work has since been undertaken and they are now asking local residents for their feedback on the updated plans.
To ensure many of the views of local residents are considered, Frome Town Council (FTC) will be holding three public meetings regarding the Selwood Garden Community consultation.  The aim of these meetings is to learn about the proposals, encourage discussion and share views and at the final  meeting, the Extraordinary Council meeting, Cllrs can agree and finalise their response back to LVA.  All three meetings will be held online via Zoom.
Wednesday 14th October, 7pm – 8:30pm – presentation of the proposals by Land Value Alliances
The purpose of this meeting is to help residents and interested parties understand and interpret the proposals. LVA will talk through the consultation boards and explain their reasons behind the development and their designs. There will be an opportunity to ask questions on the evening via the Q&A board, if you have a question in advance of the meeting, then please email this to jllewellyn@frometowncouncil.gov.uk.
The presentation and Q&A was streamed live on Youtube at the time of the meeting and is available to view below or via this link: Selwood Garden Community – Presentation of Proposals
Wednesday  21st October, 7pm – 8:30pm – Engagement and feedback meeting
FTC want to hear the views of residents and interested parties, this meeting will give people the opportunity to discuss the proposals in more detail. Using the virtual breakout rooms facility, people can discuss the different topic headings, including Highways, Sustainability and the Masterplan as set out in the consultation boards and record their views using the chat facility.  This feedback will be used to inform FTC's formal response to the consultation. You will need to register in advance for this meeting,
Register in advance for this meeting by 4PM:  http://bit.ly/SelwoodGC2Wednesday  28th October – 7pm – 8:30pm, Extraordinary meeting of Council
In this meeting Cllrs will agree FTC's formal response to the consultation, taking into consideration the feedback gathered at the previous two meetings.  You can attend this meeting by registering here: http://bit.ly/SelwoodGC3
You can view the plans in advance on https://selwoodgardencommunity.com/, these will be available online until Sunday 18th October, and it has been agreed that FTC will submit their final response following the Extraordinary meeting on 28th October.
Published 8th October 2020, last edited 9th October 2020