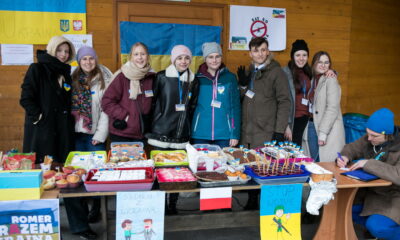 Over the past two months the Frome community has rallied in response to the war in Ukraine. The town has been moved by the tremendous effort that Frome's twin town of Rabka-Zdrój, has been making. Frome appeals so far have raised over £30,000 and the first round of this has been transferred to Rabka Town Council.
Our twin town is a only 150 miles from the border of Ukraine and has received 1700 refugees so far; the majority have been able to take refuge in hotels, B&Bs and hostels and around 500 families have opened their homes to help those fleeing the atrocities.
Rabka have managed to repurpose an old swimming pool into a Refugee Centre where people can meet and collect groceries & clothing donations from local residents. Their town has also been raising funds through concerts similarly to ours and they have been opening their doors to Ukrainian children and young people at their sports clubs.
With the reality of the funding from the Polish government coming to an end, alongside the arrival of the tourist high season, there's a lot of uncertainty ahead for the refugees and their place in Rabka. The money the Frome community has raised so far from crowd funding, fundraising gigs, silent auctions and more will be going direct to Rabka to help on the ground. Other events such as Hei Ukrayina and Ukraine Humanitarian Appeal Event at the Cheese and Grain are planned for next week with tickets still available.
Justin Worringham from Frome Twinning Association says "The refugee situation in our twin town, Rabka-Zdrój, is becoming more difficult. The number of refugees they are now looking after has risen from an initial 500 to 1700 now. The continuation of support money from the Polish authorities for refugees is now uncertain since it was only agreed until April 24th and there is no information yet on prolonging this. Rabka themselves have organised a number of events to raise money for the refugees. The money raised through the Just Giving appeal in Frome has been transferred to Rabka, who have expressed their sincere gratitude to Frome for offering this timely help to the refugees in their small town. So, on behalf of Rabka I want to say a big thank you to people in Frome for their incredible generosity."
As the situation develops and visas get approved, it's anticipated that further support will be needed here as refugees arrive here in Frome, along with help for the families that host too. Frome Rotary are now collecting on behalf of Frome Welcomes Refugees, to support refugees both in Frome and in Rabka. The other previous campaign solely supporting Rabka campaign will close as this will enable to rotary to collect giftaid on donations.
This campaign is led by the Frome Welcomes Refugees group, along with the The Rotary Club of Frome, the Twinning Association and Frome Town Council. You can donate to their campaign by text or via their Just Giving page. Click here to access this page. Alternatively, to donate on your mobile, simply text "UKRAID" followed by the amount you wish to donate (up to £20) i.e., UKRAID20 to 70085.
And if you would like to be part of a network of support from hosting to offering your skills or befriending, as families arrive in Frome please submit our form by clicking here.