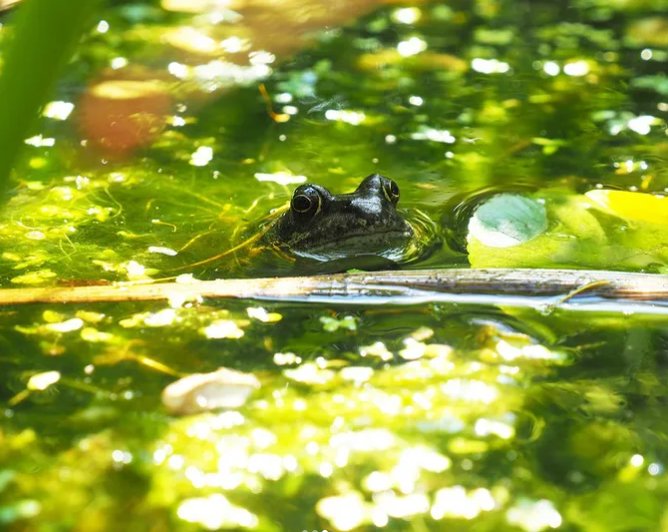 Frome's Wild Bunch was formed last year during Frome's Great Big Green Week. Since then, the group has grown from strength to strength and have been hosting a series of sessions that have promoted wildlife-friendly approaches in our neighbourhoods. A whole range of wildlife-in-our-garden topics has been covered: everything from getting ready for spring to wildflowers to butterflies.
The Wild Bunch meet every month but will be taking August off before holding several sessions at this year's Great Big Green Week in September. Before they break for summer, they have a free pond dipping session which will be held on location at Welshmill pond on Thursday 21st July from 1:30pm – 2:30pm.
Frome Town Council's Resilience Officer Jo Morris will be at the session and says: "We'll be investigating the wildlife at the new pond in Welshmill, trying out some pond-dipping methods and talking about amphibians. We will also be looking at the variety of insects and their larva in and around the pond, such as dragonflies and damselflies. Dragonflies have been around on earth for around 300 million years and some of the early species may have been the size of seagulls. We will talk about the life cycle of these fascinating insects, and if we are lucky, we might be able to see some dragonfly nymphs."
Mayor of Frome, Cllr Sara Butler said: "It's brilliant to see how quickly wildlife have adopted this new pond as their new home. Back in February when the pond was created with conservation charity Froglife, it was a blank canvas. The members of the Wild Memories group planted a variety of native plants and wildflowers to boost the wildlife and it's now teeming with bugs and insects – I think this session will be thoroughly enjoyable and informative."
Places are free but you may wish to book, more information can be found on the Wild Bunch website. Along with details on how you can receive your own Wild about Frome sticker for your front garden or window to show your support for rewilding in our gardens across town.