Frome's Neighbourhood Network connects local street level groups to share ideas, resources and support at the neighbourhood level. This autumn the group will host monthly Toolkit sessions that are open to anyone in Frome and will offer tips to help residents do various things on their street or neighbourhood, such as setting up a new group or gardening for wild neighbours.
This month, they're hosting their Play Streets Toolkit session at the Town Hall on Thursday 11th November from 10am- 12pm and they're excited to welcome Lucy Colbeck, Play Streets Development Officer at Playing Out. Lucy will be leading a resident's guide to running a Play Street, and attendees will be able to hear first-hand from Alexandra Road residents in Frome who have already got their monthly play street going.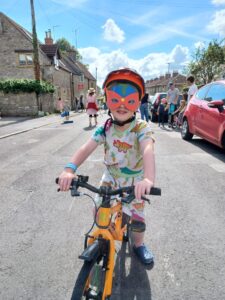 Hannah Stopford, Frome Town Council's Community Development Officer, will take us through some of the practical requirements from Somerset County Council, and then explore any questions from attendees about their own streets. The Toy Library will be running a play corner in the meeting space, so you are welcome to bring children if you need to.
Alternatively, the session will also be broadcast live on Zoom as a webinar if you would rather join remotely (you'll be able to ask questions using the Q+A function). Sign up to the session here.
If you can't make it but are interested in starting a play street event on your road, the Playing Out website has some great introductory information and Hannah Stopford can help guide you through the application process, you can email Hannah here.