Two projects to mark and celebrate an Ancient Copper Beech have started to take shape following discussions at the first meeting of Frome Town Council's Town Matters committee.
"We had a very interesting and very passionate discussion about Frome's trees" said Chair of the committee, Councillor Peter Macfadyen. "There was particular interest and support for two projects to celebrate the recently felled Copper Beech – so we've started work on these projects" added Peter.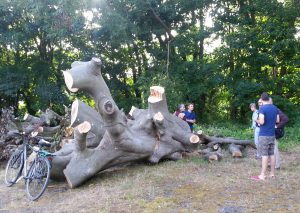 The first project will see a cross-section of the tree's main trunk cut and preserved, then exhibited in the town's museum. "We're delighted to be involved with this" said the museum. "The Ancient Copper Beech was one of the oldest trees in Frome, if not the oldest, and as such it is only right that we celebrate its history and its place in the town's landscape."
The second project will see a large section of the main trunk moved to one of the town's parks so people can climb, sit and play on it. "A number of people at the meeting noticed that the trunk has a certain sea monster character to it" said Chris Stringer, the Council's Environment Manager. "We're hoping to enhance this by carving some features – and because of this we're looking at a new home somewhere along the river, perhaps Rodden Meadow."
If you'd like to find out more about either of these projects, please contact the Town Council.
"One of the other points made at the meeting was how important it is that people are kept informed and updated – and to help with this we've set up a 'Trees in Frome' mailing list" added Chris.
To sign up for these emails simply contact us at admin@frometowncouncil.gov.uk with your name and your email address. Or, if you'd like information in other ways please write in, call us or call in to our office on Palmer Street. You can also find out more information on the town council's website www.frometowncouncil.gov.uk
Looking further ahead, the Council would like to hear from people who are interested in planting trees in Frome – whether that's in public green spaces or in their own gardens.
This comes after the disappointment and frustration of a number of trees being damaged and killed on the Mary Baily playing field.