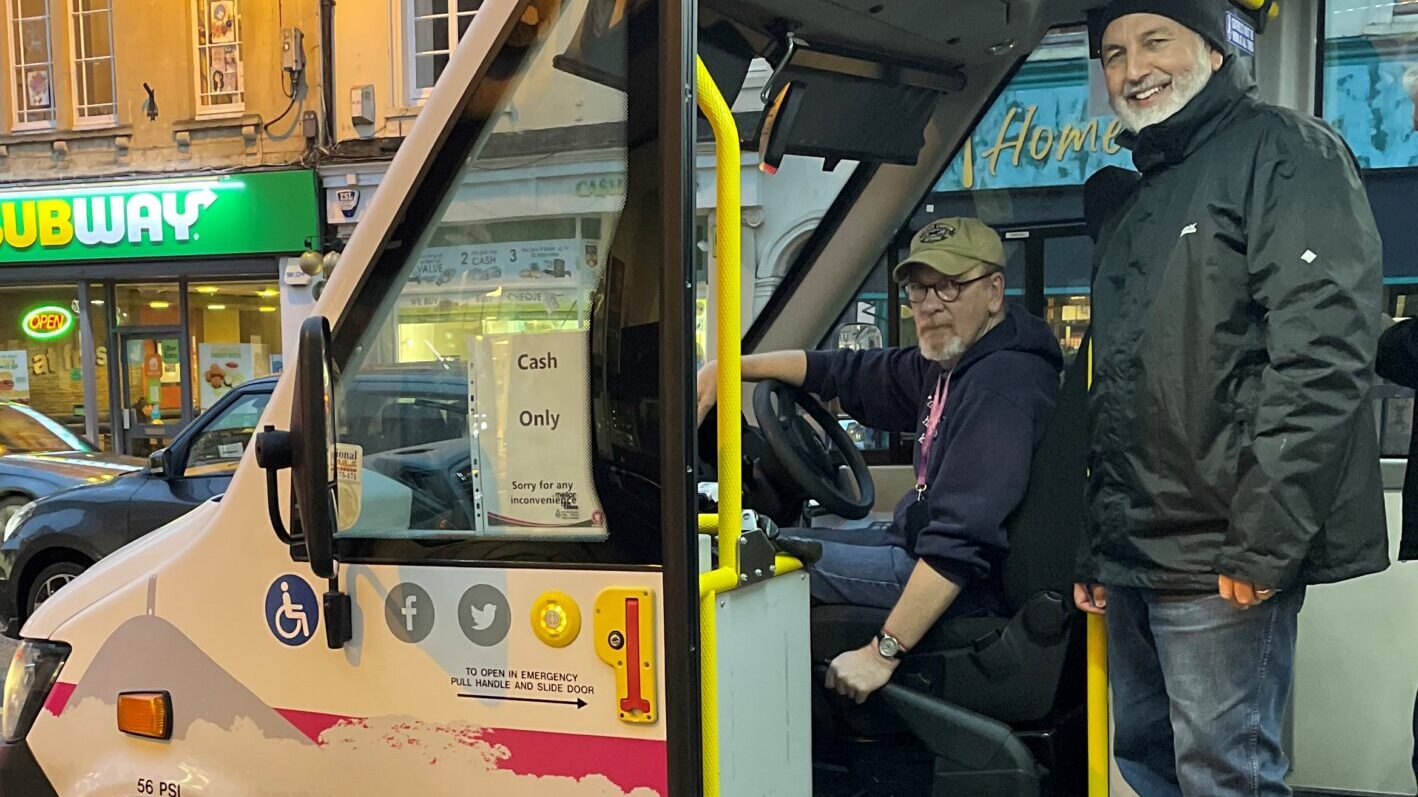 Good news! Since we published the below news post, we have learnt that all bus journeys from Frome will now cost £2 which is great news for bus users.
The promotion will be in place until March 31st, so why not take a journey on one of Frome's bus services:
162 to Shepton Mallet
X34 to Chippenham
D2 to Bath
53 to Warminster
47 & X47 to Westbury
414 & 424 to Midsomer Norton
184 to Midsomer Norton
67 to Trowbridge
69 to Bradford on Avon
Please note: Travelling within Frome on the D2 or the Frome town services operated by Frome Bus (30, 31a & 31b), will continue to be less than £2.
---
With the new year in full swing why not make a resolution to use Frome's local bus services? With the variable cost of fuel and the unpredictable nature of the train service, our local buses provide a cost effective and environmental alternative to using the car – especially now with the introduction of the £2 single fare on selected services, which will be running until 31st March.
Deputy Mayor, Cllr Phillip Campagna, who is a regular bus user, said: "Prices seem to be going up every day so it's good to see that travelling by bus is now cheaper!"
From now through to the end of March, a single fare will cost a flat rate of £2 on all bus services to and from Frome operated by both First Bus and Faresaver Buses. So, whether you travel between Frome Market Place and Chippenham on the X34 or travel between Frome's Sainsbury's and Bath bus station on the D2, the single fare will only be £2. What's more, if you're travelling on the D2 within Frome, the special £1.50 single fare will continue unchanged.
The £2 fare will also be available on the Frome Bus services between Frome and Westbury (47), Frome and Warminster (53), Frome and Trowbridge (67) and between Frome and Bradford on Avon (X69). It also applies to the X47, the Faresaver service from Frome to Trowbridge.
The major fare cut is part of an initiative funded by the Government aimed at boosting bus use while helping passengers to save money as the cost-of-living crisis continues to bite, fuelled in part by high petrol and diesel prices.
Cllr Campagna continued: "Passenger numbers will dictate how this service will be run from the end of March. We see how these services are a lifeline for local communities and vital for those studying or working unsocial hours in surrounding towns. So, I implore you to use it, before we lose it."
"Catching the bus takes cars off the road, so there's less congestion and less carbon emissions. It also reduces wear and tear on vehicles let alone the cost of fuel and a parking space! Why not catch the bus and immerse yourself with the beautiful Somerset scenery as you take your bus journeys?
"The bus is the perfect way to get around Frome and to visit neighbouring towns with contactless payments and an app to check bus times and tracking – travelling on a bus whether for commuting or a day trip couldn't be easier."
A new D2 bus timetable launches on 22nd January, and in the next edition of the Frome Times there is a handy cut out and keep timetable, so you can have the information readily available.
Frome Town Council have also created a useful bus map for residents and visitors alike to help you plan your journeys. It shows you where your nearest bus stops are, and which route each bus takes. Download the map and find bus timetables and more information and transport options on the Transport page on the Frome Town Council website.