New Frome Town Maps have now been installed in 5 strategic locations in town providing visitors and townsfolk with a brand new colourful guide to the town centre. The new visitors map has been produced by Frome town council in partnership with Cityscape Maps.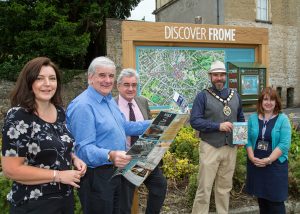 Installed within smart solid wood frames, the large scale maps are attractive and easy to read. Alongside each of the map boards are dispensers where copies of the maps can be purchased for just £1. Map boards and dispensers have been installed at the Station, Kingsway, the Westway and in two areas of the Cattle Market Car Park.
Frome town council has put many months of work into the design and positioning of the maps which we hope will enhance the visitor experience and increase footfall, ensuring that visitors get to see and appreciate much more of the town than just the obvious shopping streets.
Economic Development & Regeneration Manager Peter Wheelhouse said, "This is a timely installation given the many events coming up in the town over the next few months.  We've already had excellent feedback from members of the public."
Andrew Prince, proprietor of Studio Prints and representative of the Westway Centre said, "These new maps have generated a lot of positive interest with a number of sales already achieved."
The maps can also be purchased at the Frome Information Centre at the Library.  They are also available online through Amazon at the higher price of £2 – this may be helpful for those who want a copy of the map before they arrive in the town.  The ISBN number is:  9781860801792.
For more information on the new Frome town map contact Frome town council on 01373 465757 or admin@frometowncouncil.gov.ukPhotographed:  New map board at Cattle Market Car Park
Left to right:
Jane Llewelyn – Frome town council
Andrew Prince – Studio Prints
Neil Howlett – Harris & Harris Solicitors / Frome Chamber of Commerce
Cllr Toby Eliot – Mayor of Frome
Tracey Rawlins – Cheese & Grain