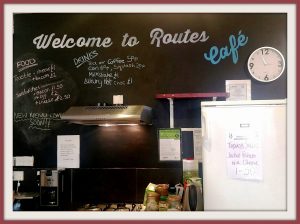 After successfully applying for funding from Somerset Community Foundation, Routes Youth Café in Palmer Street has been able to improve its menu and service.
Routes Manager Sarah Stobbart said, "We are very excited to be able to develop the Café. It is a very important place to young people in Frome and we would love more volunteers to come and help us deliver this unique service. The Routes Youth Café is situated within a dedicated advice centre for young people aged 11-25, we're looking for positive, reliable and enthusiastic individuals with great customer service skills. You may be looking for experience in the food service industry, or you may just want to help. Training and Level 2 qualifications are all on offer for volunteers, plus a friendly and supportive team."
If you would like to chat about helping contact Glenda Collier Volunteer Coordinator 01 749 679553 email gcollier@mendipymca.org.uk. Or drop into Routes.