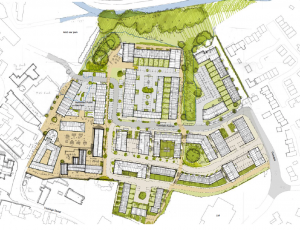 Joint Statement from Mendip District Council and Frome Town Council
Frome Town Council have exchanged on the sale of their land adjacent to the Saxonvale site with Mendip District Council and are looking to complete in the coming months to enable wider regeneration of the area.
The two local authorities have had very positive discussions and Mendip District Council have now agreed to purchase Frome Town Council's land for the asking price of £985,000.  The incorporation of the land will help to deliver a more comprehensive scheme at the Saxonvale site in Frome.
Donna Nolan, Deputy Chief Executive, Mendip District Council, said; "We are delighted that by working closely with Frome Town Council we have been able to purchase their land so that it can be incorporated into the Saxonvale redevelopment, developing the whole area means we can bring a more comprehensive development to Frome".
Paul Wynne, Town Clerk, Frome Town Council said; "We're really pleased that, by selling our land to Mendip, the whole of the Saxonvale site can be developed as one.  Securing a comprehensive regeneration of Saxonvale is an important objective that we have been working hard to achieve for some time. Both Councils will be on the steering group and we look forward to working closely with the developer to get the best possible mix of housing, open space and commercial development for the town. We're pleased with the general direction in which the master plan is going."
The inclusion of this piece of land increases the development opportunity on the site and has already been part of the public consultation events regarding the Saxonvale redevelopment, run by Acorn Property Group.  To find out more about the redevelopment of this site please visit: https://saxonvaleredevelopment.org.
Published 22nd March 2019