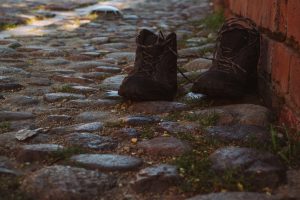 A recent estimate showed that homelessness in the UK has risen by 42% in recent years, but in Finland the number of homeless has actually dropped by 35% in the same period.  Why is that, I wondered?
To be classed as homeless you don't have to be sleeping on the streets – sofa surfing, staying in a hostel or B&B, squatting or living in overcrowded conditions all count as homelessness. The reasons why people become homeless are many, but getting back into safe accommodation can be incredibly difficult.  In the UK, homeless people are told to quit drinking and drugs before they can get into regular shelter – quite a tricky thing to achieve from the streets. In Finland, a scheme called Housing First works on the reverse principle that having a home makes solving health and social problems much easier.  The homeless are given permanent housing on a normal lease and then offered support services until they can become independent.  It's an interesting solution that perhaps we can learn from.
Back in Frome, Zero Nights is a new scheme run by Fair Housing for Frome to support anyone sleeping outside when the temperature is predicted to go below zero.  On these nights, Frome Town Hall opens its doors from 7pm and showers, hot food and housing advice are on offer to those in need. In addition, Citizens Advice, the Bridge Café and YMCA Routes all offer valuable advice and support.  Fair Frome have a weekly drop-in surgery at the food bank every Tuesday and Frome library Access Point is open daily for free in-depth homeless prevention advice.
Preventing homelessness needs to be the first priority for local authorities, but helping those already in trouble, especially over winter, is surely something needing an urgent response.  Does Finland's initiative offer a way forward?