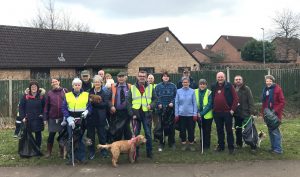 One of the main concerns that councillors hear time and time again is the amount of litter on the streets, rightly seen as a blot on our town.
Earlier this year the idea of 'Litter Warriors' was born. This is an ever growing group of concerned residents who wanted to support the traditional council street cleaning services and do something about the problem. Using equipment supplied by the town council they meet at least once a month in areas of Frome where residents have identified litter and dumped rubbish to be a particular problem. It is amazing how much rubbish can be collected in an hour by a small group of committed individuals.
However, Litter Warriors and council contractors alone cannot keep our streets tidy. We all need to take pride in our neighbourhoods and it is heartening to see that communities such as Edmund Park and Trinity are also organising their own litter picking groups. We are rightly concerned at the amount of waste choking our planet so we should all play our part by disposing of our rubbish responsibly.
If you would like to come and join the Litter Warriors we will be meeting this Saturday (8th June) at Frome railway station at 10am and then on Thursday 20th June at 2pm in Gypsy Lane, by the rugby club. Future dates will be published on the Litter Warriors page and this is where you can let us know where you think we should be working. You need only commit to an hour but we have proven that even this can make a huge improvement to our environment.