Hello everyone and welcome to my first column as the new Mayor. It's an incredible honour and a huge privilege to take on this role. I could not love this town more; the last year has introduced me to such a broad range of incredible people and groups doing brilliant things, and I can't wait to see more of that.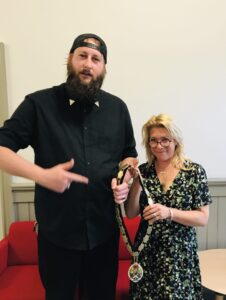 The first thing I'd like to do is say a massive thank you and well done to our outgoing Mayor, Andy Wrintmore. He's been inspirational in far too many ways to list; he's shown that local politics is for everyone, and he's been a great front man for the IFF-run Frome Town Council. Seeing the outpouring of love for him from residents everywhere shows me that he has inspired so many people to get involved and engaged with what's happening in the town. 'Having big shoes to fill' is an often over-used metaphor but in this case it couldn't be more true!
I'd also like to congratulate Philip Campagne on being appointed Deputy. I know from my own last year supporting Andy how vital it is to have a partner who wants to get involved in all the many interesting and diverse things going on, and I know he'll love it.
There is no denying that it is going to be a challenging year; hardship is either here or on the horizon for so many people. Our costs of living, increasingly high energy bills, the imbalance around housing; these issues will need so much attention over the coming year, and beyond. Frome is better placed than most to weather storms like this. The pandemic showed how quick we are to respond to the needs of our neighbours and wider community, and the incredible coming together, which helped to support our most vulnerable during unprecedented challenges.
So what else is high on the agenda for the next year? The shift to the new Somerset Council means that keeping a voice for Frome at the table will become even more important. At FTC we want to have creative and constructive conversations about where we might be better placed to run our town, including discussions about our open spaces, our scope to bring more of the town's assets under local control, and how our unique town can make the most of this opportunity. The Saxonvale development will be a key part of this; what happens there will shape the town for generations to come, so it's vital that we get it right.
Personally, I'm committed to our environment, the green and healthy agenda, addressing our need for good social housing without paying the price of losing all our precious green spaces, the physical and mental wellbeing of residents and our resilience in facing whatever comes. We are so lucky to have so many individuals, groups and organisations in our town who work hard to support us all. I'm looking forward to my journey through this over the next year, and to taking you all along for the ride