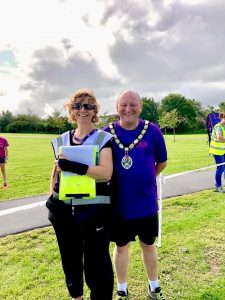 During elections, candidates are often said to be 'running for office'. Since our elections in May, it seems that I haven't stopped running! I've run at school sports days, Rachel Clarke's daily run for WHY, 4 miles up a muddy hill for brain tumour research; and my seventh Frome 10k.
I also try to run Parkrun, a completely free 5k event held every Saturday at 9am in 1400 towns across the world. Until recently, our nearest run was at Southwick Park in Trowbridge, which involved driving and trying to find somewhere to park.
That is until last Saturday, when the first Frome parkrun was held at The Old Showfield – and I was delighted to start it, and then run. This was the culmination of many months of hard work by a team of committed individuals who had to prove to the Parkrun organisation that they were capable of running a safe event to their very high standards.
Frome Town Council assisted by improving the paths around the Showfield and granting money for the start-up costs of the event. We were happy to do this as we like to support anything that encourages our residents to get more active, spend time outdoors and become happier and healthier as a result. If you have an idea for an event or activity you'd like to put on in one of our green spaces find out more here.
If you don't want to run but would like to help in this exciting initiative, volunteer marshals are always required. If you are new to running, Health Connectors at Frome Medical Practice run 'Couch to 5k' courses as a safe introduction. However, you participate I look forward to seeing you Saturdays at 9am at the Old Showfield. Find out more about the park run here.