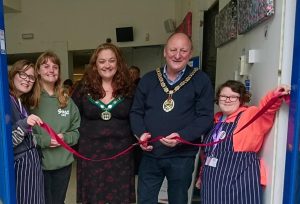 This week the main business of Frome Town Council has been preparing our response to the outline planning application for the development of the Saxonvale site. After many years of inactivity progress is finally being made to bring this derelict area to life. Our duty as a council is to represent the views of Frome residents so as to achieve the best outcome for the town in this once in a generation opportunity.
To this end we held a public meeting at the Assembly Rooms, which, I'm glad to say, was very well attended. Residents were able to make their views known to the architects and developers and give councillors their views on the direction the development should take. This all helps influence the response the council will make to the outline planning application.
Two other events I attended as mayor were the Frome Town Crier Festival and the opening of a pop-up shop to benefit Critchill School.
Mike and Angie Bishop have been organising the festival for many years now and this year I was delighted to welcome twenty-three criers to Frome, from all parts of the UK.
Critchill School's shop in Bath Street has opened to market their hand-made goods, and those from other Somerset special needs schools, but perhaps more importantly it gives the students an opportunity to interact with the public and develop their inter-personal skills. It's only open for a few weeks so please visit and support them.