There are only two messages for you in my Mayor's Column this week.
The first message is that I'd like to express my overwhelming gratitude that I was able to take part in Remembrance Sunday so that I could show my respects by laying the wreath on behalf of Frome Town Council. At the Frome Memorial Theatre, just two of us stood in front of the bronze statue of local man and WW1 soldier, Sgt. Charlie Robbins. Charlie was a foundry worker at J W Singer & Sons Ltd, who ultimately cast the statue. The statue followed Singers when they moved to their new factory on Handlemaker Rd until it was moved to the Memorial Theatre under the care of Frome Town Council and dedicated in 2014.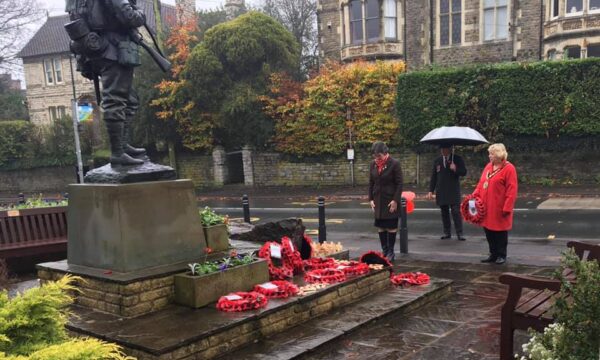 On Sunday, close to 11am, Rev. Colin Alsbury gave a short service followed by a bugle call and two minutes silence, before the laying on of wreaths by The Royal British Legion and myself, as Mayor. It was, as always, a moving and emotional tribute as we gave thanks to all those who fought and died for our freedom. I felt honoured and privileged to play a part in it.
You can watch the ceremony on Frome Town Council's YouTube Channel: http://bit.ly/ftcremembrance
The second message is that I want to talk to you as your Mayor to impress upon you as we go through this second lockdown, how important it is that we work together, support each other and look out for each other.
There will be many who will struggle to get through the next few months – those who will lose their jobs or are furloughed, those who may even lose their homes, those who feel lonely or isolated, and those who may be struggling with mental health issues.
We in Frome know that we are a resilient town, we care about each other and we already have some wonderful neighbourhood communities. If we can build on those and reach out to our neighbours, as we did last time, we can make sure we all come out of this pandemic safe and healthy, with a town we can be proud of. If you'd like to join or create a neighbourhood group, please email neighbourhoods@frometowncouncil.gov.uk
If you need help, there are several groups out there who will be happy to offer their services.
Frome Town Council's website gives masses of information on where to go and who to speak to during the pandemic. Their phone lines are open (01373 465757) during office hours and there will always be someone on hand who can answer your questions and offer advice.
Active and In Touch can help by offering a volunteer befriending service to offer a friendly voice on the end of a phone. They can also offer a shopping and delivery service for those who are isolating. https://www.activeandintouch.org or call them on 07539 795261
Discover Frome lists shops on their website telling us which ones are open and/or offering an online service with delivery or collection, whether it's groceries, takeaways or Christmas gift ideas, the directories cover them all – check it all out at : https://www.discoverfrome.co.uk/attraction_category/lockdown-shopping/
Fair Frome are brilliant at helping those in need by supporting the food bank and pointing people into the right direction for advice on where to go for help. www.fairfrome.org for further information or call 01373 488578.
Fair Housing for Frome is there to offer suggestions on who you can turn to for help with housing issues such as homelessness, renting, evictions or mortgage payments. https://fairhousingforfrome.org.uk
Frome Community Drivers can help you with collecting prescriptions, running you to the hospital or other emergency journeys. To find out more, you can call them on 07596-591391, email at Hello@fromecommunitydrivers.org.uk or check out their website https://fromecommunitydrivers.org.uk/
Frome Medical Practice is on hand with advice on all things medical and for anything mental health related, they have strong connections with the Health Connections Mendip, who are also supremely well equipped to offer advice. Call 01373 301301 or check out their websites on https://www.fromemedicalpractice.co.uk and https://healthconnectionsmendip.org/
We Hear You has launched a Covid-19 Crisis support service. Call 01373 455255 or email info@wehearyou.org.uk to arrange a telephone appointment.
So, there's a way for everyone to get all the support they need.
We also need to remember that our town is important to all of us. It's a thriving town that offers some incredible services, and amazing shops – most of which are independent, some of which are quite unique. If we wish to keep Frome alive and also attractive to visitors, we all need to support these local businesses by shopping locally, even if it's by using an online service to keep them afloat.
All in all, we're in a good position to see this through with enough support for everyone. I just want to reiterate how important it is to keep an eye on our neighbours, to look out for each other and to follow the government guidelines.
If you need to contact me, please email me at acollier@frometowncouncil.gov.uk
We're all in this together. We need to work together. We need to get through this together. And we will.
Take care. Stay safe everyone. My love and best wishes to you all.