Following on from the fabulous Christmas tree light switch on, Mayor of Frome, Cllr Andy Wrintmore has fully embraced the festive season with the announcement of the Mayor's Christmas card winners.
Each year the mayor sends out a uniquely designed Christmas card to many different organisations and individuals who they have met over the year.
Back in November, Cllr Wrintmore called on the budding artists of Frome to come up with the most creative design around the theme 'Empowerment'. Entries were received from children up to the age of 12 around Frome.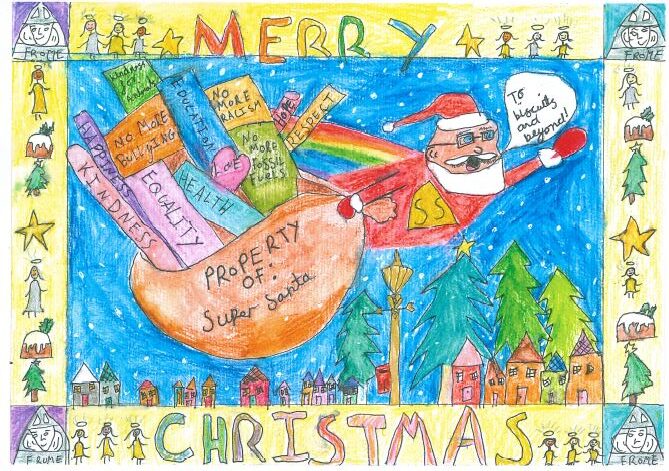 There were so many wonderful entries the mayor decided to have a winner and two runners up. Sylva Rose of Avanti Park School won the overall competition and is delighted to have her image on the front of the card that will be sent to over 500 recipients.
All the winners are:
1st place – Sylva – Rose Yeoman Mills
2nd place – Ivy Laws Gooch
3rd place – Greta Goskel
Cllr Andy Wrintmore added: "The standard this year was very high, and I'm delighted with all the entries. Sylva's entry was next level and I'm really pleased that this design will go on to represent me and Frome Town Council this Christmas. Thank you to all who took the time and entered, I think we have some serious artists of the future here in Frome!"
The winners are being proudly displayed in the Town Hall.