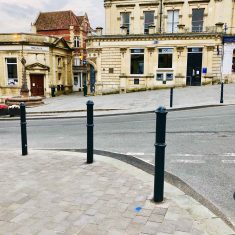 The road through Frome has been closed for the Market Place phase II improvements and is now subject to delay.  It is now expected to be open from the 25th September.
The three-week delay on opening the road is due to the discovery that some of the existing utilities, pipes and cables had been laid previously much higher than expected and they don't comply with current regulations.   These services will be lowered or protected as a result. Whilst the road will reopen on 25th, works will then continue as specified for another 2 weeks and ultimately the whole scheme will be delivered within the sixteen week time frame.
Dave Sartin, the Market Place Project Manager from IMA Transport Planning Ltd,  said of the delay: "This couldn't be helped or anticipated.  It was not until the services were uncovered that we discovered they were not at the correct depth below the ground. This is why there is always contingency built into the project time so that the works can be delivered to an agreed specification regardless of what we find. Whilst Griffiths, the onsite contractors, have worked hard to recover time the workers who were due to put the finishing touches to the road now find themselves in a local lockdown in Caerphilly due to Covid-19 restrictions.  They have sourced a backup team and these will be on site until 25th September. However, we have been able to continue with other aspects of the work and so, whilst the road reopening is delayed, ultimately the scheme will be finished on time."
There is another aspect of the scheme that had been approved at planning stage and will now be not be included in the scheme. This is the use of coloured surfacing to form the courtesy crossings. The reason for this is new Government guidance around shared spaces and courtesy crossings which requires us to remove the coloured surfacing from the scheme in these locations.  However, the tactile paving and build outs that have been constructed will remain and will make the act of crossing at these points much easier.
Anita Collier Mayor of Frome said of the crossings:  "Whilst this is disappointing short term I understand that these new guidelines address issues of accessibility and safety.  We must of course observe the most recent regulations and recommendations both from County Highways and from a Covid -19 perspective, they are there to ensure the safety of the space once the works have been completed.  Ultimately we will be left with a greatly improved Market Place in terms of how it looks and how it functions."
Published 9th September 2020