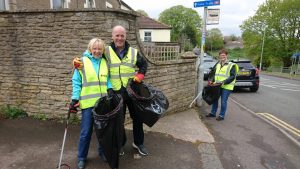 Volunteers turned out in force to join the Litter Warriors spring clean the Culverhill road area of Keyford on Thursday 25th April. Armed with litter picking equipment, the team collected 12 bags of rubbish.
The Litter Warriors include both young and old residents from all over Frome brought together by the shared passion of keeping our streets clean.
Since their first litter pick back in February, the Litter Warriors have successfully collected over 30 bags of rubbish.
Everyone is welcome to take part in the litter picks – just turn up at one of the dates listed below. There are also children's gloves and litter pickers so all the family can get involved.
The team aims to have a litter pick every two weeks alternating between Thursdays and Saturdays and are keen to welcome more volunteers.
The next scheduled litter picks will be:
Saturday 11th May, 10am
Meet on the corner of St John's Road and Rodden Road
Thursday 23rd May, 2pm
Keyford, a meeting point the Fire Station
Saturday 8th June, 10am
Portway, a meeting point The Station
Thursday 20th June, 2pm
Gypsy lane, a meeting point the Rugby Club
Saturday 6th July, 10am
Bath Road, a meeting point the corner of Northcote Crescent/Grange Road just away from the main road
Bookmark our Litter Warriors page to keep up to date with planned litter picks.
If there is an area of Frome that you would like the Litter Warriors to tackle next please email info@frometowncouncil.gov.uk.
Published 08/05/2019