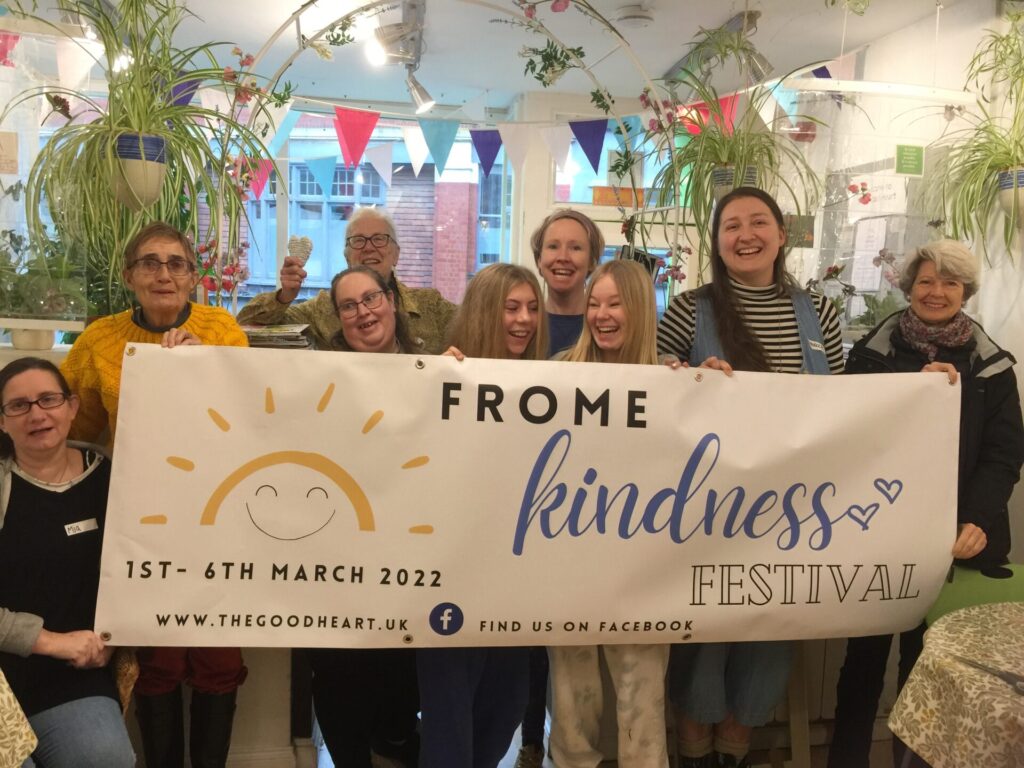 Would you enjoy a one-to-one conversation with someone who really listens to you? Are you stirred up by the topic of Kindness in Politics? Do you like the idea of a family event focusing on kindness? How about dropping in on a workshop about how to take better care of yourself or be a kinder person, especially to the people you find difficult, scary or annoying? Would you like to explore how to be kinder to the planet? Have you been reading Humankind: A Hopeful History? Or what about a Friday night of comedy with kindness and pandemic expert Dr Phil Hammond?
All this and more will be taking place during the Frome Kindness Festival from 1st – 6th March, and the festival website is now open for bookings. Although almost every event is free – and some are online – places are limited, so please book now to avoid disappointment.
Cllr Shelia Gore said, "There is a wonderful programme of events, activities, and interactions planned for Frome's first ever Kindness Festival. It really celebrates the power of kindness and serves to remind us all why it is so important to take a little time to show it to ourselves and those around us. Frome is known as the town who beat loneliness can we also be town that stands for kindness?"
Look out too for a week of unexpected and creative pop-up acts of kindness and appreciation around the town. The Frome Times is running a special thank-you column, and you are invited to add your own thank-you notes to interactive displays at Lo Rapitenc in Cheap Street, at Frome Town Hall and in The Good Heart. St John's Church is hosting a giant Angel Map where you can record an unexpected kindness you've experienced in Frome, and Wesley Church is offering a Kindness Café.
Frome's first Kindness Festival is also being championed by Frome Town Council, Frome Medical Centre, Frome Window Wanderland, the Frome Independent, the Frome Times and Frome FM. Please join us in celebrating the difference that kindness can make to our relationships, to our mental and physical health, and to the town where we live.
With big thanks to the Good Heart Cafe, the wonderful Kindness Crew and to the generous event leaders, venues, sponsors and supporters who have made the Kindness Festival possible. Find out more at www.thegoodheart.uk/festival. 
Take a look at the events being hosted at Frome Town Hall or in our green spaces below