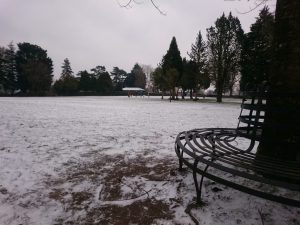 EDIT – 01/03/2018
Keep Britain Tidy events postponed…
The adverse weather is forecast to continue tomorrow – so our litter pick at the Dippy has been postponed.
Watch this space to find out if the litter picks in the Market Yard and Stonebridge survive the cold and the snow – or head to the Keep Britain Tidy website to contact the organisers for these litter picks directly:
www.keepbritaintidy.org/get-involved/support-our-campaigns/great-british-spring-cleanLitter picks are being organized around Frome this weekend as part of the Great British Spring Clean and Frome residents are being asked to join in. The Great British Spring Clean is a national campaign designed to help keep our streets looking good. Local volunteers are being asked to join in and help make neighbourhoods as clean as possible this spring in time for the warmer weather.
Annabel Macey one of the organisers of this year's Stonebridge litter pick from Hopefrome explains, "Last year a group of nearly twenty men, women and children took part in the Stonebridge community litter pick in March. We all worked for an hour to clear litter from the stream corridor, open spaces and footpaths, and then went and cleared the edges of the old Showfield too. We collected a lot of rubbish from bushes, open spaces and the stream, including drinks bottles, cans and wrappers, as well as old tyres. Everyone had fun and it was great to see the difference it made."
This year as part of the campaign a number of Litter pics are taking place:
Join Frome Town Council councilors on Friday 2nd March – meet at Town Hall at 11.00am and walk to the Dippy (or meet us at the Dippy at 11.15) where "…the Rangers will meet us with all the equipment needed for a safe and enjoyable litter pick then we will head back to the Town Hall with a warm fuzzy glow in the knowledge that we have done our bit to help Keep Frome Clean!" says Councillor Richard Ackroyd
To join the Stonebridge event, come along on Saturday 3rd March at 10.30am outside Tesco Express on Forest Road, the clean-up will finish at 12 noon. Councillor Adam Boyden said, "This litter pick is an annual event now and a great way to help keep where we live clean and litter free."
Friends of the River Frome are organising their monthly litter pick meeting by the River Friends banner in the Market Yard from 10am on Saturday 3 March – if anyone is interested in helping out then that would be appreciated by Nick and the rest of the Friends.
This and other litter picks are also supported by both Frome Town Council and Mendip District Council as part of the national Great British Spring Clean (see www.greatbritishspringclean.org.uk).
To set up you own clean up event please contact Chris Stringer at Frome Town Council on 01373 465757 and stringerc@frometowncouncil.gov.uk, or Mendip District Council's Neighbourhood Services team on 0300 303 8588 and neighbourhoodservices@mendip.gov.uk.
People will need to wear suitable outdoor clothing, footwear and gloves. All other equipment will be provided. The events are open to everyone and children are welcome.