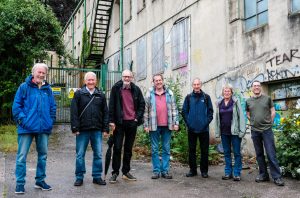 A new community-led housing initiative has been launched in Frome. The Frome Area Community Land Trust (FACLT) aims to develop genuinely affordable homes for local people in housing need.
The idea of a Community Land Trust is that the community itself acquires land or buildings, and develops them independently, either on its own or in partnership with a Housing Association. One of the many benefits of the initiative is that it helps to ensure any housing developed remains affordable indefinitely and cannot be sold off under the Right to Buy scheme. It also means the CLT can have a real say over planning and design, ensuring they are sensitive to community needs and aspirations and enable a degree of priority for people with a local connection by establishing a Local Lettings Framework.
Roger Saunders, chair of FACLT and FHfF development worker said, "In recent years, most of the new housing built in Frome has been unaffordable for people with low to medium incomes. Mendip Council have been unwilling or unable to get developers to deliver anything like the amount of affordable housing they're supposed to. The result is that many local people, for example young people and families who have strong connections here, are forced into expensive, insecure and unsuitable private rented accommodation or have to move away."
The current board of directors are now looking for a new group of people who are passionate about local housing issues to get involved. Board member and Frome Town Councillor, Ali Barclay said, "Ideally we'd love it if hundreds of local people become members of the CLT. Membership is open to anyone aged 16 or over, who lives or works in Frome and the surrounding area, or has another form of local connection. To become a member, all you have to do is fill in an application form and purchase a £1 share. This then gives you a right to come to general meetings, help shape the CLT's plans, vote on policy decisions, elect directors, or stand as a director yourself."
As well as developing genuinely affordable housing for local people in housing need, the CLT also hopes to support the provision of housing to meet other local needs. Tim Cutting, FACLT board member and treasurer said, "There's good evidence of a strong demand in Frome for a community led housing scheme. Over 50 households signed up for a project that would only have provided 16 homes had it come to fruition. And it's not just about community housing because the CLT can take on other assets or projects important to the community, such as workspace for local people or land where wildlife needs protecting."
In a few weeks' time, the current board of directors will stand down and a new board will be elected democratically by all the CLT's members, at a Special General Meeting to be held in Frome Town Hall on Thursday 1st August at 7.00 pm. Joining the Frome CLT is easy and it gives you a say in how these plans move forward and achieve the objective of providing truly affordable homes in the town.
If you would like to get involved and help progress the idea of affordable homes in Frome or find out more then please apply for membership by email info@FromeAreaCLT.org or go to of their webpage https://FromeAreaCLT.org  where you will find more details and an application form.
Published 18/06/2019