Frome Town Council, in partnership with SHARE a Library of Things, has a Thermal Imaging Camera available for people to see where their home is leaking heat and lacking in insulation and draft proofing.
Community volunteers provide this service for a donation, so it is preferable to get a few houses together in the same street or neighbourhood to have your houses thermal imaged during the same evening or weekend.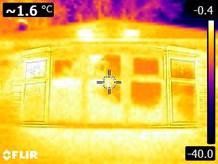 Cara Naden, Resilience Officer explains "The thermal imaging camera shows up 'hot spots' where warmth is leaking from your home, usually through the roof, walls, floors, doors and windows. Seeing this visually helps to identify areas that need attention either by adding insulation, draft-poof strips, replacement of failed double glazing units, adding secondary glazing or repairs to masonry work. Even simple low cost solutions such as installing thermal blinds and curtains or draft proofing around doors, windows, and letter boxes can make a difference. The best time for taking thermal images is on a cold, dry and dull day when the heating has been on for a few hours. The greater the temperature difference between the inside and outside of the house the better. Rain and sun can give distorted readings so ideally on or at the end of a cold cloudy day is ideal."
Interested households can register their interest at SHARE a library of things, either by email share@edveturefrome.org or by dropping into the Shop Wednesday – Saturday 12-4pm. Preference will be given to group bookings e.g. of 2 or more houses in the same street. Photos are available to keep if requested via email.
Local volunteers are given basic training to use the camera and will bring the camera to your home to use on your home and show you the thermal images as you go around the house. The suggested donation is a minimum of £10 per visit. This is to cover volunteer expenses and for a contribution to SHARE a library of things. If you would like to become a volunteer email nadenc@frometowncouncil.gov.uk
Advice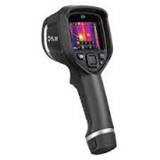 Once hot spots and areas leaking heat have been identified, head to Centre for Sustainable Energy website or call 0800 082 2234 for some tips, solutions , ideas and links to further support and possible funding. Reducing heat loss from your home will save you money on your heating bills, keep you warmer and reduce pollution.
For further information please email Cara Naden Resilience Officer at Frome Town Council nadenc@frometowncouncil.gov.uk