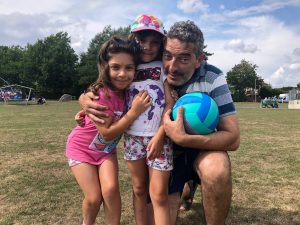 This summer Frome is action packed with ways to get moving, from walking football and free tennis to inclusive cricket sessions and retro dance fun.
Cycle to work day is taking place on 15th August so dust those wheels off and get riding or join Sustrans Frome for a special a nature treasure hunt along Colliers Way on the 19th.
Fitness for everyone is the message from Mojo Moves as they encourage Frome to dance their socks off for free by the Boyles Cross Fountain. The comedy workouts are supported by Frome Town Council, and there are two opportunity to get involved on Saturday 18th August and again on 1st September with three sessions throughout the day.
Frome's Outdoor Gym on the Old Showfield is always good for anyone wanting to enjoy the outdoors and fit a work out in.
After activities for families including accessible sports and gardening next up for Frome's Children Festival summer holiday fun is outdoor play on 29th August. Athletics and rugby followed by football and tennis are on offer from Nova Sports and Coaching for children with additional needs on 28th August and 30th August retrospectively.
Frome Town Council want to hear what how you're getting active this summer, so if you have a great photo, story or event you would like to share please email them to info@frometowncouncil.gov.uk or use #ActiveSummer  on facebook, twitter and instagram.