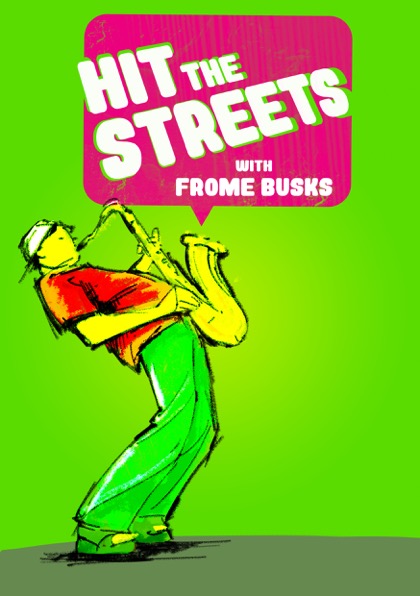 Frome's first busking competition for under 25's is set to take place on 10th March 2018 where talented young musicians will be asked to hit the streets with Frome Busks.
Preparations are under way with some seriously fresh bands and acts signed up.
Performances will be spread across some of the most iconic parts of the town centre from 12pm-4pm. Each participating act will perform in each of the locations across the town, changing every 30 minutes.
Open to anyone under 25, each act will be assessed by a panel of judges and the winner will be awarded with the chance to perform at 23 Bath Street and Sunrise Celebration Festival later this year.
Al O'Kane, Frome Town Council's Performing Arts sponsor said "With its wide variety of venues and live shows, Frome is well known for its impressive music scene. Frome Busks will be an excellent opportunity to celebrate this passion while supporting talented young musicians. By holding it throughout the town centre, it will also act as a great excuse to explore the town and visit its many wonderful shops!"
Frome Busks will open with the Frukes at 12pm by the Boyle Cross and will close with the utterly fantastic Noisy Oyster at 4.00pm outside Ellenbray. The winner will be announced at 23 Bath Street at 4.30pm.
The competition will be an amazing opportunity for young performers to show off their passion whilst highlighting the many wonderful spots around the town. Please get in touch if you have a shop or business in the town centre and would like to get involved in celebrating the event.
Find out about Frome Busks for 2019 here.
Meet the Acts for 2018
Fresher & Angel
Described as 'a mix between The Kooks and Michael Buble', Dan Fresher and Nathan Angel are a dynamic duo that love playing music, especially acoustic and hip-hop covers.
Henry Wacey
Henry Wacey is a folk-rock musician from Frome that shared the stage with the likes of Mad Dog Mcrea, Beans on Toast, Funke and The Two-Tone Baby, Nick Heyward and many more. Henry performed at Glastonbury festival in 2014 and 2015 and has released 2 EPs, 'Here I Go Again' and 'On My Travels Again'.
Garbage Queen
As Garbage Queen, Ewa Lobodzinska channels both Marlene Dietrich and Amanda Palmer and plays wonderfully strange songs that are an incredibly captivating experience.
James Harriman
James Harriman brings a non-stop, high energy live persona alongside catchy choruses and strong lyrics. James has performed at many events including Free Radio Live, The Birmingham Weekender and the Birmingham Made Me Awards. He is currently touring around the UK and recording his debut EP due for release in summer 2018.
Archie Ttwheam
Archie is a self-taught guitarist in the Hendrix blues and rock tradition.  His musical experience began when renowned Frome Jazz Composer, John Law became his musical mentor and piano teacher.  John opened Archie's mind to the infinite possibilities of phonic experimentation.  He generally plays guitar with the use of looping, effects pedals and feedback but is also proficient on piano and vocals and equally as experimental with those instruments.
His influences rest in the world of David Bowie, Jimi Hendrix, The Doors and Tom Waits with a healthy dose of Kendrick Lamar and Earl Sweatshirt thrown in for good measure.
Having played in various bands over the years he is currently working on his debut solo EP.
Solo Ray Candy & The FrontRunners
Seriously fresh and enviably cool, Solo Ray Candy & The FrontRunners recently put together their demo 'Being Real'.
Check it out here: Being Real
Gwen Sutterby
Scarlett Brudenell
Event Schedule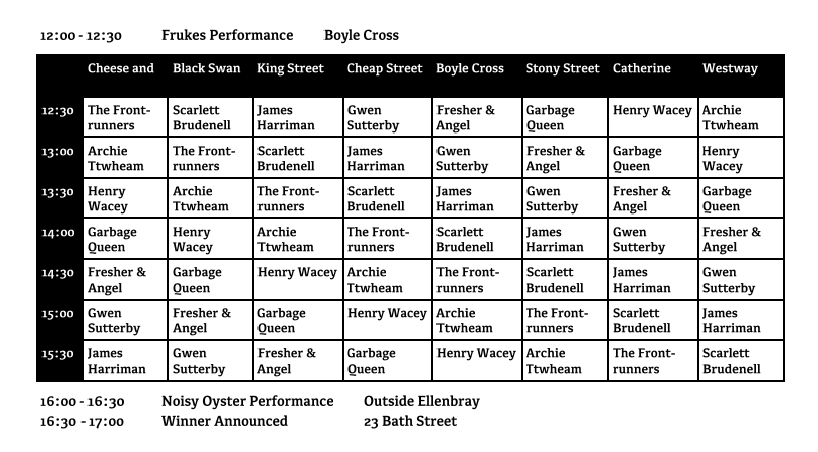 Locations
%CODE1%