Light the Night is a real community evening where everyone comes together to celebrate the turning on of Frome's Christmas lights and a spectacular lantern procession.  This year it's being held on Friday 29th November and we have created a fun packed evening. The festivities will start from 5pm and include carol singing, Father Christmas in his grotto and lots of delicious seasonal goodies from a host of stalls.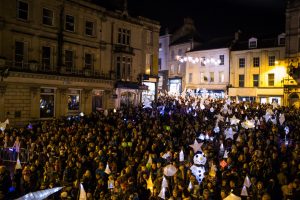 The main draw, the Light the Night lantern procession, will make its way down from St John's Church at 18:15pm and will truly bring the Market Place alive with the variety of illuminated lanterns in all shapes and sizes.  Frome residents are encouraged to join in and build their own lanterns. Some workshops have already taken place and there are a few workshops left in November so make sure you don't miss out:
Thursday 7th November, Welsh Mill Hub 4 – 7pm
Sunday 17th November, Welsh Mill Hub 10am – 12pm, & 1:30-4pm
Wednesday 27th November, Frome Town Hall 4 – 7pm
If you're unable to make a workshop, this year DIY lantern making kits are available from Frome Town Hall, Discover Frome Information Point and the Share Shop.  There are 3 different kits from an easy pyramid, to a medium kit for those who have a little bit of experience with these types of lanterns and want to make something a bit different to a pyramid. Finally a large kit if you're feeling ambitious!
Money from the sales will help up to run the workshops and the parade next year. For more information and free workshop bookings visit www.fromelanterns.co.uk
Photo credit: Chris Bailey
Published 4/11/19