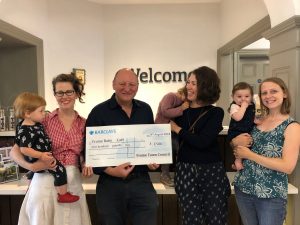 Community and voluntary organisations across Frome are celebrating after receiving funding from Frome Town Council.
A total of £7,565 is going to six local projects for the work they do in the town to support local people. The projects ranged from inclusive sporting opportunities and a new social club for young adults to a special event to bring local entrepreneurs and the community together.
Deputy Mayor, Mark Dorrington, who is part of the Grants Advisory panel said, "We are delighted to be able to support such great organisations in Frome. I hope that any other organisations looking for funding will apply in the autumn for the next grant round."
One of the organisations that were given a grant was Get Wet Frome who received £600 towards swimming lessons and hydrotherapy for local young people with disabilities. These sessions help to improve health and wellbeing and are also a chance for families to enjoy quality time together.
Alison Douthwaite from the club said, "The youngsters we support have extremely limited opportunities to engage in sporting activities and keep their bodies healthy. The funding from the Town Council will mean we can keep running these unique swim sessions."
Frome Baby Café were awarded £500 to help run a regular drop-in service for pregnant and breastfeeding mums and their families looking for information or support.
Jennifer Connor who volunteers for the Café said, "We're delighted to receive this grant. It is so important to be able to offer a free and welcoming environment in Frome for families to access breastfeeding support, receive support and share experiences."
The funding is from the first round of the Town Council's Community Grants programme which supports projects that have a positive impact to the prosperity, environmental sustainability and health and wellbeing of people in Frome.
See below for the full list of successful grant applicants this round:
Nine Mayor's Grants totalling £2,436 have also been awarded since April.
The second grants round is now open and will close at the end of October and you can find out more information about the programme here.  For more information about the help and fundraising advice we can offer to community groups and organisation here and more information about the community grants programme here.