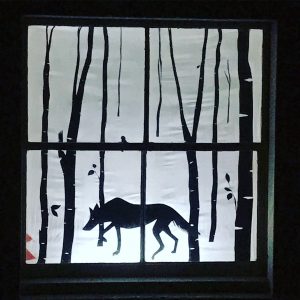 Hundreds of local residents have already signed up to Frome's Halloween Window Wanderland set to take place over the last weekend in October. With weeks still left to go, over 200 people are planning to bring Halloween to the town's streets while keeping socially distanced and covid-safe.
Frome Town Council have a number of plans in place to help you take part, including how-to Halloween Window Wanderland workshops to help give you some ideas on how to make your window display really stand out. The workshops will take place on Saturday 17th October 10am – 11am and Thursday 22nd October 4pm – 5pm and you can sign up to them via www.discoverfrome.co.uk/halloween-window-wanderland/
The Town Council have also supported the Neighbourhood Network Group to offer a free resource pack to help neighbours and streets come together and get creative and colourful. As well as some top tips to get you started, they've included everything you need to make an eye catching window display: black sugar paper, coloured tissue paper, tracing paper and glue. If your street would like a pack simply contact Hannah Stopford via email at hstopford@frometowncouncil.gov.uk
Mayor of Frome Anita Collier said, "As it's getting chillier and the nights are drawing in, now is the best time to check in on your neighbours. Taking part in a street Halloween display is a great way to stay in touch and build connections with those nearest to you while following current social distancing guidance."
The Neighbourhood Network Group began as a result of neighbours and streets looking out for each other over the past few months. The aim of the group is to link different neighbourhoods, share ideas and provide information that may help you and your local community. If you and your neighbours have recently joined together to support each other and would like to sign up to the Neighbourhood Network Group, just go to www.frometowncouncil.gov.uk/neighbourhood-groups-across-frome/
This year's spooky Window Wanderland will take place on 31stOctober – 1st November, 5.30-8.30pm and there's still time to give your window a frightening make-over. Have your window added to the map by registering your interest at www.windowwanderland.com/event/frome-2020-oct/.
Published 06/10/2020