This spring, First Bus have introduced some new services; the D2X which is an express bus between Frome and Bath, alongside new services that run later into the evenings, to enable the community to enjoy nightlife and entertainment in both Frome and Bath – all for a £2 single fare!
Cllr Philip Campagna said: "We've included this handy new timetable with details of the new times and services. We're incredibly lucky to have such a wealth of entertainment venues, restaurants and bars and these new services mean more folks can enjoy them for longer into the evening – it's a win win for everyone. Even more than that, the £2 flat single fare promotion is running until the end of June, so it's the prime time to come to Frome."
Frome's late-night offerings are even more appealing with the introduction of the much-needed late night D2 services, opening Frome up to be the perfect location for a night out with great transport links. Venues around town are excited at the new addition of these services and many are running promotional campaigns to coincide with the launch.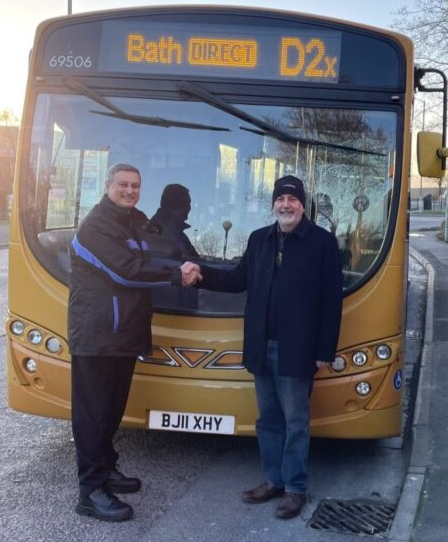 Marc from Lo Rapitenc on Cheap Street said: "I do believe that having late bus service will be really positive for local businesses, people can stay longer in town and enjoy our fantastic restaurants. We would like to offer a 10% discount for the first month for those who come with their bus ticket.
Steve MacArthur, Director at the Cheese & Grain said: "Bath, only 15 miles away, has a population of over 200,000, including a large and mostly car-less student population, but Frome often has more and better live music. So, these new late night buses from Frome to Bath have the potential to boost our town's night-time economy and sustain our town centre."
Kent Barker, owner of Eight Stony Street said: "We at Eight Stony Street are so excited to be involved in the late-night bus service. It typifies why Frome is the market leading small town in the region and is the total reason quite so many innovative and exciting businesses await your arrival on the D2 or D2X"
It's not just in town either, Sam Clift, Manager of the Clubhouse at Badgers Hill said: "A brilliant connection for the whole community, great steps forward and a massive help for local businesses. We're offering a 10% discount when producing a valid bus ticket or receipt at the Clubhouse bar."
Peter Travis of Frome and Villages Bus User Group (FAVBUG) said, "More people are now travelling by bus between Bath and Frome. That's because of the new cheap £2 single fares introduced earlier this year which have more than halved the cost of that bus journey. As a result, First Bus is adding extra capacity and new weekend services. First also believes their new 'express' D2x service between Frome and Bath will encourage yet more people to switch to going by bus.

"The new late-night services will also be very good news for Frome's entertainment and hospitality sectors as people will now be able to go for a night out in Frome, have a drink, knowing there'll be late night buses to get them back home."
These new late night services are great value and hopefully will encourage people to venture into Frome and Bath and enjoy the wealth of entertainment on offer.
For more information on bus services in and around Frome, visit the transport page on Frome Town Council website: www.frometowncouncil.gov.uk/transport