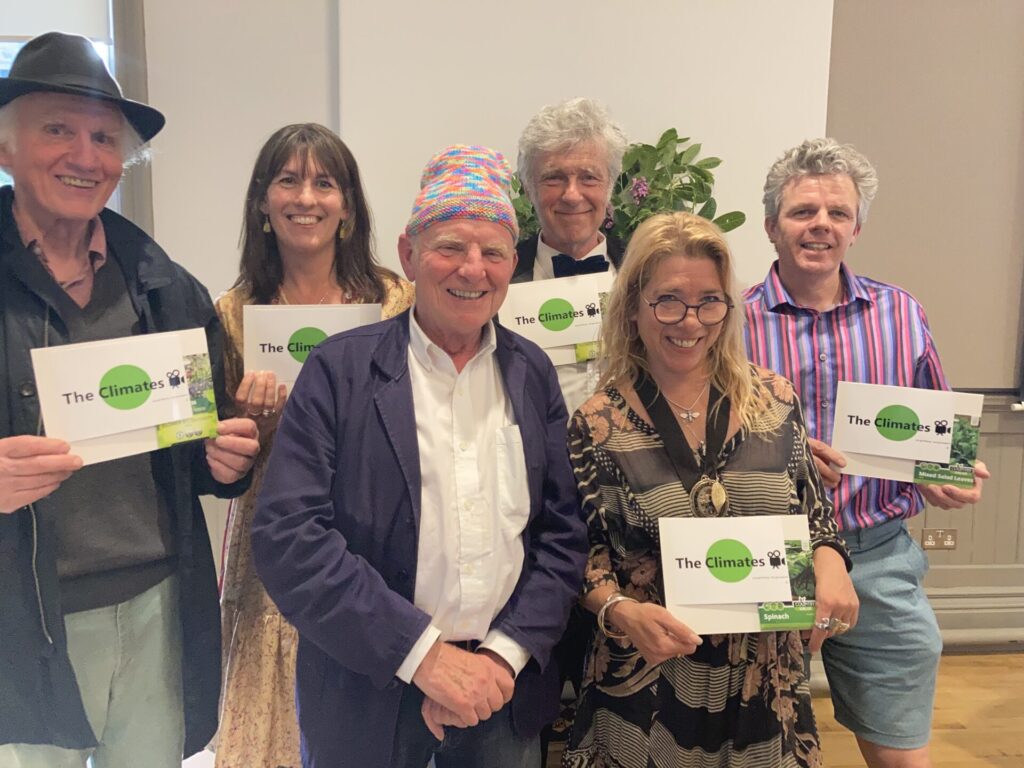 The Climate Film Festival finished with a flourish on Saturday following 12 workshops and all-day screenings of over 18 films. There was a tremendous offer spread over the day, with films taking us from North Wales to India, from Microplastics to Amazon Rainforests, from phone movies to professional endeavours – the spectrum of films was breath-taking.
The day culminated in 'The Climates', the award ceremony where 5 awards were presented – although of course, every one of the films and entrants are winners. The winners in their categories were: Best film 18-60 – Amser/Time; Best Film 60+ – On the wild side; Best film under 5 minutes – Soilful; Best film over 5 minutes – If trees could talk; and the most inspirational film – Microplastics.
All of the 18 fantastic films can be seen on the live stream video of the event, the full lineup includes: Amser/Time, Plastic Invasion, Growing Trees on Farms, Prospecting Now & Then, The Great Pause, Women and Climate Crisis, Cargo Bikes Deliver, Microplastics, Tree Day 2, Soilful, If Trees Could Talk… What Would They Say?, Sounding the Alarm for Nature COP26, Cloud 7, On the Wild Side, TrashBees, Harm to Harmony, The Last Jaguar, Climate Change – Ladakh.
Festival Director James Godman said: "The Frome International Climate Film Festival has been a wonderful success with 18 films being submitted, 10 of which are new and especially created for the festival. We also secured 12 workshops from film makers and environmental groups which is fantastic. It's the first year of THE CLIMATES and it has gone beyond my wildest expectations – the support and help offered by people has been really humbling. Special thanks go to Frome Town Council and team, much appreciated and onwards and upwards to next year."
The workshops saw an interesting mix including film making workshops from Compass, wildlife filming and mapping, how to make a short film with Howard Vause and a dip into the business of filmmaking with Richard Grant. There was also an exploration of natural film processing with Green and Healthy Futures and a trip to Loop: Frome. Volunteer Gill Tree said that the workshop from James Turner of Glimpse was particularly enlightening: "He really turned campaigning and making a film on its head, talking from a different positive story perspective which really had an enormous impact."
The sessions kicked off with a kids film making workshop where the aspiration was to get kids making their own films. Keith from Compass who delivered the workshop said: "The hope had been that we would have had several under 18 submissions for the awards, but alas this year we didn't. Hopefully following the workshop kids will really have the skills to go away and next year enter their own film with skills sourced here."
James went onto to assert: "Next year we look to encourage more schools to be involved and to expand the festival with live outdoor screening and the festival knowledge camp – so get on board and be part of the solution."
You can see all the winning films and more information about the festival on the festival website. You can also see a live stream of the day on Frome Town Council's YouTube channel.
To get involved in next year's Climate Film Festival please contact James Godman.