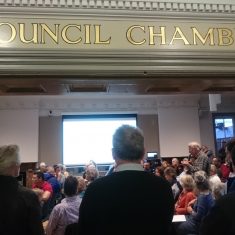 Frome Town Hall was busy last night as 83 people made it to the Council Chamber to discuss the proposal from Mendip District Council to establish a Boxworks type development near the Cheese and Grain and the Canoe Club on the Market Yard car park.
The development proposed uses 20 shipping containers, fitted out to offer high-spec, unique and flexible offices. Most in the audience supported the principle of providing office space like Box Works in the town and agreed it was in short supply. It was the location that was unpopular.
The main concern from the audience and FTC's Planning Advisory Group – who hosted the meeting – was that the location would negatively effect both the Canoe Blub and Cheese &Grains operations.  Other concerns were raised about loss of car parking, proximity to the river and visual impact.
The Planning Advisory agreed to welcome the need for this type of development in Frome but asked Mendip to think again about the other possible locations in the town; elsewhere on the Market Yard car park or on Merchants Barton car park.
Councillor Pippa Goldfinger said ""While we welcome investment into the town from Mendip District Council, we feel this is the right development in the wrong location. We urge Mendip to rethink the location and work with all stakeholders involved towards a scheme that can benefit the whole town."
Frome Town Council objected to the application as it stands unless the impact on parking, vehicle access, lack of landscaping, loss of amenity to the Cheese & Grain and the Canoe Club, creation of hidden areas and visual impact are addressed. However, Frome Town Council support the concept and would welcome the opportunity to work with Stakeholders to bring the project forward.
Mendip will take the final decision at their Planning Board. Plans can be viewed at the Town Hall and on MDCs website at http://publicaccess.mendip.gov.uk/online-applications/ quoting reference number 2017/2307/RE3. You can also comment to MDC quoting the reference by emailing consultationresponses@mendip.gov.uk